Testament – 'Blessed By A Burden' – 2011 EP
They're back.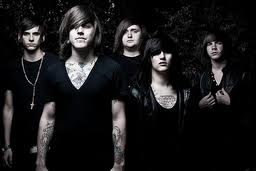 On hiatus since 1999 without any new studio material, Testament have returned in 2011 with a four song EP you can buy on iTunes.
The folks that bought 'The Gathering' LP twelve years ago may not be who buys the new one.
Testament were always the ugly stepbrother to Exodus, and over the course of eight studio albums went a long way to abolish any similarities between these two Californian Metal bands.
Testament have been listening to a lot of obscure Black Metal and very heavy atmospheric Heavy Metal bands from Europe these days, I presume. I could be wrong about this as I'm going by what I hear on 'Blessed By A Burden'.
Testament, in 2011, bill themselves as Metalcore/Electronic/Post-Hardcore.
Poppycock.
I can't fathom the reason why the band has made a song entitled 'Testament' so many decades into their career. Maybe it was a tune that had been sitting around for decades without being fleshed out. 'Testament' and another newie called 'Confession' feature keyboard overlays on top of Death Metal songs.
The blackened souls of Testament have done another strange thing. They now all sport haircuts that I last remember seeing crowning the heads of sixties icons The Monkees.
The Monkees were a bubblegum pop rock band that had the hit 'Last Train To Clarksville'.
The Testament boys look kind of funny as the haircuts are juxtaposed with their tattooed bodies in the latest official press released band photo.
Adding keyboard drama has pushed Testament into the uncomfortable realm of Atmospheric/Symphonic Death Metal.
Readers of my series The Top 50 Worst Metal Heavy Bands Of All Time, will know that I consider Melodic Death Metal to be a misnomer.
In 'The Red Moon', a keyboard overlay at just past the two minute mark of this three minute song, is straight out of Rush's 'Limelight' — a song from the Canadian Progressive Metal Rockers' 1981 'Moving Pictures' LP.
This section of 'The Red Moon' lasts for 30 seconds and I am starting to scratch my head and furrow my brow. 'The Red Moon' sports a style that is fancy, Hardcore Punk done real heavy.
'Turn Your Back' is a better attempt at what passes for Metalcore these days. This song is worth purchasing. I have all of Testament's albums and they are a very deep band that usually gives the fans original songs that are a treat to listen to.
So I find 'Turn Your Back' to be really good in spite of the rest of the dross on this EP.
I have to applaud Testament for trying something new and pushing the boundaries way beyond the brutal Thrash Metal they started with.
Testament are still a force and I hope the full-length LP has more songs like 'Turn Your Back' which shows that the Atmospheric Metalcore/Death Metal showcased on 'Blessed' has promise.
I will pray for it.
– Rich Castle
Death Scream – Heavy Metal Reviews – Heavy Metal Interviews – Heavy Metal News