Whitesnake – 'Forevermore'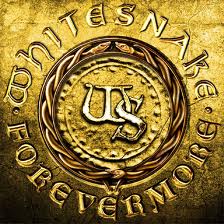 The raspy vocals that are featured on this album seem to be coming at ya from a man who has sung every day of his life and is telling you his story.
Like stepping out on a cool, crisp April morning and sensing the first twinges of the spring season ahead, 'Forevermore' has come out just in time for the flowers to bloom and the outdoor festivities of the months ahead to take shape.
The advent of Spring in my hometown of New York City has been given theme music.
Thank you, Whitesnake.
As I listen to 'Fare Thee Well', I am taken back to my carefree childhood where I tuned in every day to my local pop/rock FM radio station and heard stuff like Rod Stewart's 'Maggie May'. I loved it, and still do.
I love 'Fare Thee Well' as it tugs on the heartstrings and those road-worn vocals seep right into the crags of my heart and send my spirit reeling.
'Fare The Well' is a thankful, reflective number with lots of clean acoustic guitar strumming. This is post-Glam Metal if I can put a label on it. Too old to look any good with heavy makeup — it doesn't matter as the music is doing the talking.
This is singalong instant hit stuff.
Not Heavy Metal as much as it is Hard Rock.
Foreigner and Bon Jovi come to mind, but I don't listen to either one of those acts unless they are on the car radio.
Whitesnake is a different beast entirely.
'Tell Me How' turns on the Heavy Metal and features a virtuostic guitar solo.
A story is told — tell me how can I win your love?
Whitesnake know how to make an engaging Heavy Metal tune.
You'll be singing this one in the shower.
Best track on the album.
The heavy metal hi-jinx of 'Steal Your Heart Away' is delivered in a boogie woogie Foghat/Sammy Hagar/Montrose manner.
Here is a band that has lived the Heavy Metal lifestyle and paid their dues.
So when the day is done the thoughts turn to a woman.
With an album like 'Forevermore' and songs like 'Steal' you can bet the job is getting done.
'All Out Of Luck' is an energetic number that is sure to get your attention.
Whitesnake don't sound tired as you may think can happen with veteran rockers.
'Dogs In The Street' is an odd title but don't be fooled. 'Dogs' is a rollicking number reminding of a roller coaster ride where everybody is thrilled and smiling as it winds round the curves.
This is exactly what I was expecting from Whitesnake in 2011. I mean this last sentence in a good way. I didn't want to hear a change of style. Like Pepsi Cola I want to buy my next bottle with tooth rotting sugar and the same great taste.
Some things I don't want to see change too much.
Whitesnake continue to impress on 'Forevermore' with 'Whipping Boy Blues'; true to the title this is our rock hero tied to the whipping post, so to speak, and enjoying every bristling minute of it.
The volume gets turned up. The band plays in the pocket. The drums pull off some nifty patterns. And finally the vocals deliver in a big way.
If any Heavy Metal/Hard Rock band was born to play the blues it would be Whitesnake.
Good stuff.
'Easier Said Than Done' could be Black Sabbath with Tony Martin.
Comparisons are not easy to make as this slide guitar driven number is just plain outrageously cool.
'Forevermore' has all the right moods and styles to make for a satisfying listen.
'Love And Treat Me Right' – barely three and one half minutes, 'Love' delivers the goods.
Feelin' alright and treatin' em right; you ain't gonna have any headaches figuring out where this song is coming from.
A blazing guitar solo hots things up. Maybe 'Love' can be criticized for being too formulaic, but damn the cynics, please. If you like your Metal to rock hard then you are really gonna love what you hear.
This summer when you break out the barbecue you will need to have Whitesnake's 'Forevermore' turned up for your guests.
Tell 'em proudly: This is the new Whitesnake, everybody.
'My Evil Ways'- this song starts with the drums getting kicked the crap out of. 'My Evil' being a restless, reckless tune. I am reminded of Golden Earring's classic 'Radar Love'. This song is a instant classic. The guitar solo is a burning amazing thing to behold.
Listen to that ear-piercing scream.  This is the blueprint that all aspiring Metal singers should go by, so listen carefully to 'My Evil Ways'.
Whitesnake are a bit like Saxon when they rock out and that's a real good thing, in my book.
The world needs Whitesnake to lighten things up and spruce up the parties.
Lift your glasses and toast Heavy Metal veterans.
– Rich Castle
Death Scream – Heavy Metal Reviews – Heavy Metal Interviews – Heavy Metal News