Motorhead – 'The World Is Yours' – Motorhead Music/EMI Music Services
'Born To Lose' is the lead-off track for this umpteenth Motorhead album.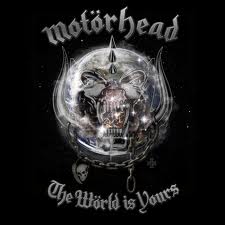 The living legend Lemmy on lead vocals and bass guitar, who also pens the lyrics, sings 'deaf to all the truth for sure', letting all of us know that he just don't care no more.
And for us fans it's tough.
If I was writing our hero Lemmy a letter it would start:
Dear Lemmy:  you sound so old.
'Waiting For The Snake', a new composition, comes off sounding so tired.
Question: Why didn't anybody bother to tune the guitars for this one.
'Devils In My Hand' is more lame stuff from this album. The same old kind of album cover with the horns and; ooh, a spiked skull.
Lame.
Lemmy's weakened vocal state couldn't take advantage of any heaviness like on, say, the
really underrated 'Hammered' album. 'The World Is Yours' tones it down in favor of a more roots of rock approach.
All the alcohol and chain smoking has finally caught up to Lemmy Kilmister.
Do you know what I was really hoping for with this brand spanking new one?
Maybe some great light thrash metal given to us by Motorhead on the 'Bastards' album.
Trying to recreate any of the spark that was 1987's 'Rock 'N' Roll' just don't cut it this late
in the game for Lemmy and the boys. I am convinced that 'old Lemmy is f*cked out, lucked out, trucked out and should stop trying.
And who can be with 5000+ women in their life, like Lemmy purports to have done, and not pick up a few diseases along the way?
'Motorizer' from 2008 was the previous studio album from Motorhead.
The great thing about it is what is missing from 'The World Is Yours'.
And that would be the vocal mix and production.
On 'Motorizer' songs like 'Buried Alive' and 'Back On The Chain' benefited from
an ingenious rendering of this man Lemmy's voice so even the duff tracks sounded quite
alright. A punchy midrange with very clear and carefully adjusted bass range gave Lemmy
just what he needed in the singing department.
Motorhead has been making new studio albums on a very steady basis since 1977 and and it is a very commendable thing. It seems that every one of Metal's top bands seem
to go five years or more sometimes without making a new studio album.
'I Know How To Die' even moves things up a notch or two on 'The World Is Yours' but to
no avail. You see, there are many numbers on this new LP that sound good out of the
starting gate only to flounder come chorus time.
'Just Cos You Got The Power' is a somewhat good comparison to make in light of the solid rock feel of 'I Know How To Die'.
But good ideas just aren't enough to save matters.
'Brotherhood Of Man' does the same thing; as it starts out good and then proceeds to go nowhere at the one-and-a-half minute mark into the song.
'Bye Bye Bitch Bye Bye' – Is this Chuck Berry? Nope, it's more like a duff Ramones track.
This last song on the album has 100% of the Motorhead formula for a greatest hit but the
energy factor nixes it again. No energy = no rock'n'roll.
– Rich Castle
Death Scream – Heavy Metal Reviews – Heavy Metal Interviews – Heavy Metal News