Zions Abyss – ' T. A.L.E.S.' – 1991 LP – Steel Legacy Records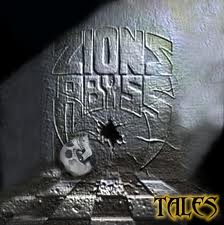 Zions Abyss were formed in 1990. They came out of the frozen tundra that is Edmonton, Alberta, Canada. The band basically came from the ashes that was Winterkil (how appropriate for Canada, right?) though Klaus Whissel on lead vocals came from the band Renaissance.
Let me delightfully warn all of you who haven't heard Zions Abyss: Klaus Whissel is the
consummate Metal Rock Star because his pipes are what only the best singers can have.
And Mr. Whissel is not the only feather in Zions Abyss' collective cap.
Zions Abyss entered Platinum Recording Studios in Edmonton and proceeded to crank out what is Power/Heavy Metal's most obscure crowning glory, in ' T.A.L.E.S.':  A cassette album that as of 2007 was re-released on CD and vinyl by the good guys at Steel Legacy Records who fly the banner for true Heavy Metal.
Zions Abyss are label mates of Tyrant who are an exponent of the New Wave Of British Metal, Final Axe, Hrom, Solitary Sabre, Syrus, Oblivion Knight, Salem Spade, Steel Prophet, King's Ransom, Eddie Ojeda (of Twisted Sister, solo), Amon Ra, Daggers Edge and  Force Majeure.
' T.A.L.E.S.'  was originally released in 1991.
In my estimation: Rush were the best Canadian Metal band during the 1970's.
Triumph were the best Canadian Metal band during the 1980's.
Cauldron are the best Canadian metal band of the new century/ 2000 A.D.+.
Zions Abyss are arguably the best Canadian Metal band of the 1990s.
The ' T.A.L.E.S.'  LP is the one and only Zions Abyss album. The band played the bar circuit in their area of Canada for about five years until they disbanded.
On September 27, 1996, Andy Waitkus who played lead guitar/acoustic guitar and sang back-up vocals for Zions Abyss died in an automobile accident in the band's hometown of Alberta, Canada.
A close look at  the ' T.A.L.E.S.' LP:
An atmospheric intro, 'Madness', signals the lead-off track 'Sorrow On The Horizon'  which clocks in at an eerie 6 minutes and :06 seconds.
'Sorrow' is an immense, catchy, heavy number. Serious lyrics that belie the youth of this band greet you with a firm brainshake — witness this line in 'Sorrow': The sun will not shine again / vengeance is the key.
Klaus Whissel stamps a Dio-worthy performance on this number that could have been penned by Ritchie Blackmore back in his Rainbow days.
Zions Abyss begin to take the listener on a Heavy Metal journey that starts with this song and lasts over fifty-six minutes.
Rock solid drumming by Eddy Zern keep perfect time the whole way through.
Mike Plummer holds down the bass guitar and acts as secure anchor as the band slays their way through each song. Mike Plummer has also played with the Canadian Legs Diamond.
'Final Command' features shouted back-up vocals trading off with Klaus Whissel's whistling pipes and help make this song a Heavy Metal anthem, of sorts.
'Darkest Dream'-  if dreams had a secret kaleidoscopic doorway, the path would lead straight to Zions Abyss. It is songs like 'Darkest' that make Heavy Metal so enjoyable.
'Running Out Of Time' – starting with Eddie Van Halen-like dive bombing guitar — think VH's 'Atomic Punk'. 'Running' comes chugging out of the gate like Witchfinder General meets Queensryche, vocally and early Uli Jon Roth-era Scorpions as far as the guitar playing and overall song style.
Zions Abyss prove with their 'T.A.L.E.S.' album that they have the uncanny knack to touch the fanbases of many a Heavy Metal band.
'Scarred For Life' is a very heavy, heartfelt power ballad  type of number reminiscent of Iron Maiden.
Ponderous and bluesy with more great six-string soloing from Andy Waitkus.
Waitkus has a terrific sense of melody in his choice of musical notes that he plays. The listener is treated to sheer guitar mastery.
At around the five minute mark in this tune, Klaus Whissel's voice soars up very high showing this man's impressive vocal range. I'll be darned if this don't start to sound like Judas Priest's "Dreamer Deceiver/ Deceiver" tune from J.P.'s 1977 third LP, 'Sad Wings Of Destiny'.
"Changing Sands" lives up to it's title and is the kind of number that will become a favorite once you have heard it a few times.
"Time Traveller"- the incendiary instrumental and vocal prowess demonstrated on this track will show you why Zions Abyss are truly Canadian Masters of Metal.
"Son Of Sam"- Mr. Whissel holds those high notes for a long time in this rollicking paean to the monster sicko 'Son of Sam'; David Berkowitz the infamous serial killer who continues to rot in prison.
"Mercenary"- Air raid siren vox and an Iommi-worthy lead guitar solo propel this tune along.
"Forever Alive"- sports a blazing wah-wah pedal fueled solo. This seven minute epic number sees Klaus Whissel hitting some very high notes again.
Upon close examination this is how it works with Zions Abyss:
When guitarist Andy Waitkus starts burnin' up the fretboard of his gee-tar, Mr. Klaus Whissel responds with his best vocalizations.
Zions Abyss sends chills up my spine.
"Serenity"- A flamenco-styled classical Spanish guitar is the perfect self played send off to the beauty of the tremendous musical soul of a man who once walked the Earth by the name of Andy Waitkus. R.I.P. brother.
Long live Zions Abyss.
– Rich Castle
Death Scream – Heavy Metal Reviews – Heavy Metal Interviews – Heavy Metal News