Loudness – The Eternal Soldiers Of Metal From Japan celebrate 30 years- 1981-2011 by touring the world after the release of the brand new non-LP single: 'The Eternal Soldiers' b/w 'The Danger Zone'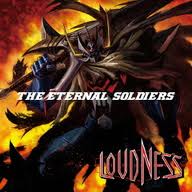 I can't exactly say that Loudness had much competition when they steamrolled out of Japan 30 years ago and quickly became the best Metal band from the Far East.
Having said that, here they are three decades later and coming to play at a venue near my hometown of New York City, this Spring 2011.
Loudness recently contributed a song entitled 'The Eternal Soldiers' as an intro theme for Mazinkaizer SKL, an excellent animated Japanese story about different armies fighting each other.
'The Eternal Soldiers' was released as a single on 12/15/2010 with the B-side being 'The Danger Zone'.
'King Of Pain' may be from 2010 but you may want to get it, if you haven't already because Rowdness, oops, I mean Loudness are coming to a concert stage near you.
Loudness will have the two albums strong, new drummer Masayuki 'Ampan' Suzuki onboard. Munetaka Higuchi succumbed to liver cancer during November 2008 and is all the more reason why everyone who calls themselves a Metalhead should be going to see Loudness in 2011.
I want to focus on 'King Of Pain' from 2010, the last Loudness studio long player as it is the first album that doesn't have Munetaka Higuchi's drum patterns figuring into the compositions of the album tracks.
Akira Takasaki has also been the focal point and remains a focal point of Loudness' longevity as this man is a true guitar virtuoso.
I was caught off guard with the latest Loudness album 'King Of Pain' as I launched into the track '#666' and found Loudness to be back on track after a few troubled years.
If you are a longtime Loudness fan you will notice the difference on this album as Higuchi was a drummer was to Loudness what a lead guitarist or lead vocalist would usually be.
And that would be a leader. Loudness though have been blessed with more than one leader in the band.
So how many blessed studio LPs have Loudness cranked out over these many years?
Twenty four studio albums.
That is a lot of albums to make and is the mark of a truly creative, seemingly perpetual force that Loudness from Japan is.
Allow me now to nitpick a bit: You see Loudness were not the strongest band vocally and it always took a rousing team effort to make the words soar.
Let me give you an example: All those years ago when the band raised their collective pipes to sing 'We must obey the law of Devil's Land'.
For myself and many of my friends we sat there with our collective mouths open. Loudness always had an air of malevolence. And that is what my friends and I were catching on to.
Call Loudness the Kung Fu Metal crew or something stupid like I just said. We all know our beer-soaked memories of our favorite Metal bands' shining moments are often quite poignant. And so it is with Loudness.
Loudness and Anthem were the two biggies from the land of the rising sun, all those years ago.
'Black Star Oblivion', 'Crazy Nights' and 'Ashes In The Sky' were smoking cuts off early Loudness black vinyl conquests/ a.k.a. early Loudness studio albums.
The most interesting thing about Loudness was that they were Power Metal and decidedly Power Metal back in the early 1980's when just being Heavy Metal was Metal enough.
Okay.
So what I am saying in my own sort of way is that the genre of Heavy Metal had just been created by many great bands throughout the world from the framework of Hard Rock laid down by Rock bands in the 1970's, so Loudness became the first proponents of Power Metal.
The best and most known example of early Power Metal is Ozzy Osbourne's first two solo albums at the beginning of the 1980s decade.
The unchanging factor that is still present in Loudness is that Power Metal feel.
Except in 2011 the punch that drummer Higuchi provided to make it happen has been replaced with the praiseworthy energy of new guy drummer Mr Suzuki which is on show throughout 'King Of Pain'.
Yet Munetaka Higuchi will not be replaced from my memory so easily.
You see,  I believe that drummers truly shine when they play in live performance settings and they then use that experience to meld with the rest of their band as a unit when it comes time to lay down tracks for a new studio release.
Touring to celebrate their 30th anniversary as a band should do wonders for Masayuki 'Ampan' Suzuki to cement his position as the new drummer of Loudness.
The longstanding trademark that defines Loudness can be witnessed in the slicing menace that is the collective band's vocal melodies as evidenced on my favorite bunch of Loudness releases:
'The Birthday Eve'- 1981 LP, 'Devil Soldier'-1982 LP, and 'The Law Of Devil's Land' 1983 LP of which I alluded to the title cut earlier in this article.
Much of the greatness of Loudness has continued on throughout the years quite consistently with great releases from this century being LPs like 'Pandemonium'-2001, 'Biosphere'-2002, 'Terror Hakuri'- 2004, 'Racing'-2004, and 'Metal Mad' from 2008.
Before I give you my personal faves on 'King Of Pain' let me again stress that the patented aggression; the metal madness and lunacy that made Loudness so lovable is still lurking in the best songs they create.
Of this I have no doubt.
Loudness also happen to be one of the most prolific songwriting units in all of Heavy Metaldom, with the band having a constant slew of studio releases with not much time in between each one of them for the rabid fans to chew on, much less digest, so great is their output.
During some periods in the band's existence they have released an album each year, which is something almost unheard of as the creative juices seem to wane for most bands after the first ten years of making original, studio albums — not so for the Heavy Metal madmen of Loudness.
Some of you out there may have noticed that I didn't mention the 2009 Loudness studio album release 'The Everlasting' and I feel I should explain: This is simply because the band sounds like they are in transition at that point because of founding member/drummer Munetaka Higuchi's departure from the band.
So I would honestly pass up 'The Everlasting' LP unless you happen to be a super die-hard Loudness junkie.
Standing room only tracks on 'King Of Pain' include 'Power Of Death', 'Death Machine', 'Doctor From Hell' and 'Hellfire'. 'Doctor From Hell' takes over where Loudness left off on the cut 'Crazy Doctor' from the ground-breaking 'Disillusion' studio LP from 1984.
How cool is that?
The real treat for me has been the latest and greatest Loudness single comprised of two never before released numbers featuring an immensely heavy UDO/Accept meets Judas Priest style chugger – 'The Eternal Soldiers'.
Leave it up to 'Rowdness' to come up with a magnificent metal song title to end all song titles.
'The Danger Zone' is on the flip side and it is just as heavy and just as deadly as 'The Eternal Soldiers'.
If Loudness would make a whole album that sounds like 'The Eternal Soldiers' single it would be really be incredible to behold. With only two new songs Loudness have turned up the volume and that is what every legendary Heavy Metal band that is still recording and playing out should be doing also.
This Loudness beast ain't done with the Powerful Heavy Metal quite yet.
1981-2011: That's a lot of Loudness!
– Rich Castle
Death Scream – Heavy Metal Reviews – Heavy Metal Interviews – Heavy Metal News