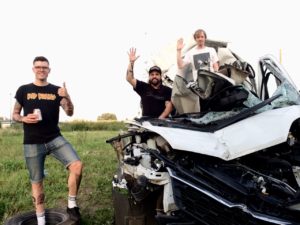 Out on Houses RottChild Records, "Medicine Bag" is written and performed by Wim Coopers, Christophe Dexters, and Edward Godby. It is a fun song that reeks of the restlessness of youth and it is played like the gentlemen who wrote it have invented a new Alternative Rock sub-genre, which could be called Trip-Surf AltRock.
Zimbabwe – "Medicine Bag" has the tagline — "Ride yer bikes!".  And just around the 2-minute mark we hear the clarion call loud'n'clear shouted above the rocking din.  The song is masterfully strung together and it begins to stop and lurch forward again like a heavily-bastardized Rush (Canada) song (sorry — but minus the cerebral aspect), as this inventive beast of a tune lumbers on. Heck it's seven minutes long in length!
The manic banging and clashing and moments of sheer inanity and playfulness really start to shine as the song stumbles and bumbles towards the ending culminating with an interesting ending motif right around the six-minute mark.
Visions of Keith Moon flopping around on his Who band drum kit come to mind along with these two skinsbeaters (of more recent note): Carter Beauford and Larry Mullen; yet "Medicine Bag" doesn't have anything but a full-of-good-times spirit — not complexity as it's calling card.
So, let the good times roll.
– Rich Castle