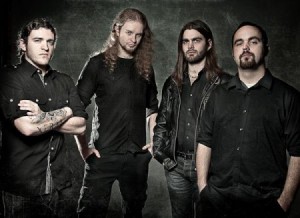 U.K. modern cutting-edge orchestral metal band XERATH will release its sophomore album, simply titled "II", in North America on May 3 via Candlelight Records. The follow-up to 2009's "I" is described in a press release as "a huge and fully refined slab of XERATH's unique sound from the production genius of Jacob Hansen (ABORTED, PESTILENCE, TYR, HATESPHERE) at Hansen studios [in Ribe, Denmark]. XERATH have combined the most brutal and technical elements of modern extreme metal to offer you something massive, cinematic, heavy, groovy and ultimately epic beyond compare."
"II" includes cover artwork by Colin Marks (STRAPPING YOUNG LAD, NEVERMORE, SCAR SYMMETRY). It features a guest appearance by Emil Werstler (DAATH).
You can now stream "II" in its entirety at this location.
XERATH's debut album was released on May 25, 2009 via Candlelight Records. The CD was mixed in France by Brett Caldas-Lima (CYNIC).
For more information, visit the band's MySpace page.
Via Blabbermouth
Death Scream – Heavy Metal Reviews – Heavy Metal Interviews – Heavy Metal News