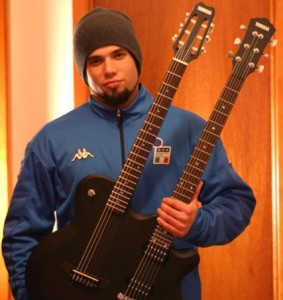 Phlamencore Records has released a new song from SOULFLY/CAVALERA CONSPIRACY guitarist Marc Rizzo. The previously unreleased track "Cascades", which was originally intended to appear on Rizzo's third solo effort, "Legionnaire", is now available as a digital single on iTunes.
New Jersey native Marc Rizzo embarked on his first U.S. solo tour in 2007. He released two solo albums with Shrapnel Records in 2006 and 2007, entitled "Colossal Myopia" and "The Ultimate Devotion", respectively. In 2010, Marc issued his latest album on his own Phlamencore Records, entitled "Legionnaire".
Rizzo has been endorsed by the likes of Peavey, Yamaha and B.C. Rich, and currently has a B.C. Rich Stealth Pro seven-string signature guitar available for public purchase.
Rizzo is well known for his position in popular metal act SOULFLY, with whom he has released four records to date; "Prophecy" (2004), "Dark Ages" (2005), "Conquer" (2008), and "Omen" (2010). In addition, he is a member of CAVALERA CONSPIRACY with SEPULTURA co-founders Max and Igor Cavalera, with whom he collaborated on the project's debut album, "Inflikted", in 2008 and the recently completed follow-up effort, "Blunt Force Trauma", to be released in March.
Via Blabbermouth
Death Scream – Heavy Metal Reviews – Heavy Metal Interviews – Heavy Metal News