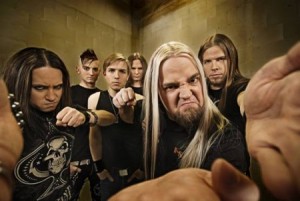 "Circle Regenerated", the new album from the Finnish melodic death/black metal act NORTHER, is available for streaming in its entirety until April 26 at the Record Shop X web site. The follow-up to 2008's "N" marks the recording debut of the band's new vocalist Aleksi Sihvonen "and will leave no long-time fan of the band dissatisfied and will grab you by the balls with its stunning blend of viciously infective hooks, epic elements and powerful riffs and leads," according to a press release.
"Circle Regenerated" is being released via Century Media Records on the following dates:
Finland: Wednesday, April 13
Germany, Austria, Switzerland, Norway: Friday, April 15
Spain, Italy: Tuesday, April 19
Sweden, Hungary: Wednesday, April 20
Rest Of Europe: Monday, April 18
Australia, New Zealand: Friday, April 22
"Circle Regenerated" track listing:
01. Through It All
02. The Hate I Bear
03. Truth
04. Some Day
05. Break Myself Away
06. Believe
07. Falling
08. We Do Not Care
09. The Last Time
10. Closing In
NORTHER was founded in 2000 and has thus far released five full-length albums, two EPs, a DVD, four singles and the soundtrack to the Finnish film "V2". The band has done extensive touring with such acts as DIMMU BORGIR, HYPOCRISY, TURISAS and FINNTROLL.
NORTHER released its latest album, "N", in North America on September 30, 2008. The record marked the band's Century Media debut and featured two bonus tracks from the "No Way Back" EP, "No Way Back" and "C.U.S.", along with a video for the song "We Rock".
"N" entered the Finnish national chart at position No. 5 back in February 2008. The CD was recorded and produced by longtime partner Anssi Kippo (CHILDREN OF BODOM) at Astia Studios and mixed by Fredrik Nordström (DARK TRANQUILLITY, ARCH ENEMY, IN FLAMES) at Studio Fredman in Sweden.
Via Blabbermouth
Death Scream – Heavy Metal Reviews – Heavy Metal Interviews – Heavy Metal News