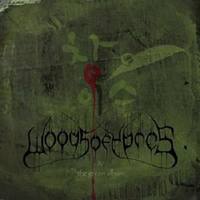 Woods Of Ypres –  'W4: The Green Album'
Here is a band that you can cause you to mispronounce their name like you may already do with Celtic Frost, Children Of Bodom, VoiVod and others.
'Wet Leather' – like the haunting neo-bardic Darkwoods My Betrothed or even Dark Throne's Frenriz' side-project Isengard.
Though Woods Of Ypres do not fit any casual association with any other band and certainly no facsimiles of them exist in the current Metal/Rock scene.
On this particular song, 'Wet Leather'may resemble Darkwoods My Betrothed but they are not from the 1990s where singing plainly and melodically was the domain of the patriotic Scandanavian and Nordique scenesters.
Today's melodic Black Metal scene is full of fresh trodden trails thanks to the ingenuity of a few of today's top acts.
Though I make this comment in general, concerning Woods Of Ypres; the band Zoroaster with their own brand of mammoth Heavy Metal and Psychotropic shoegazing is the closest I can get, for comfort's sake, to Woods Of Ypres.
And what Wood Of Ypres is doing is a whole different ostrich compared to their contemporaries. In many ways I am almost reminded of Led Zeppelin. Certainly, W.O.Y. have a widespread appeal.
'And I am Pining, for you' – At 8 minutes and 46 seconds this song is an epic, haunting, chilling tale.
Uncannily as it may seem, Green Day slam heavy chords turn up at the end and whip this one towards a shattering finale that you don't want to miss.
The flair for drama that Wood Of Ypres has in spades, is evident in the riffs as well as the vocal's department. The words are sung in a clear and concise manner, where you can understand each word that is sung without the aid of a lyric sheet.
'By The Time You Read This, I will Already Be Dead' – The late, great Peter Steele of Type O Negative has been revived, vocals-wise in the catchy chorus of this tale of bleak suicidality. After about one minute and 20 seconds, or so, Wood Of Ypres wisely sing out the verse in their regular style.
No wave, New Wave, Gothic Metal, Very Melodic Black Metal, Grungy Rock, Alternative, Nu-Metal: You ain't gonna pidgeonhole these guys to easily.
'You Are Here With Me, In This Sequence Of Dreams' – A Jimmy Page kind of minstrel romp cavorts this tune along.
I got to tell you that this song is a little too depressive for it's own good, besides the fact that it also wanders a little too loosely.
Obviously, as you can see by the last tune I mentioned, Wood Of Ypres will see their popularity curbed by controversial subject matter.
'Everything I Touch Turns To Gold, Then To Coal' – well, what a strange  title for a song, first off.
The human condition of rotting and decaying is encapsulated by yet another tale of woe-oh-oh-oh.
'Paint It Black', by none other than the Rolling Stones is akin to this cut.
Wood Of Ypres are signed to Earache Records who are known for having the guts to sign musically adept bands that have left-of-center viewpoints. Earache is also known for having, and pun though it may be, a great ear as many an act has risen from obscurity to find a place on this label's roster.
'Mirror Reflection and The Hammer Reflection' – A Germanic chop keeps the very talented and original, Wood Of Ypres rolling through this song's duration.
The best song on 'W4: The Green Album', with the best chug.
'Shards Of Love' – The opening cut has a formaldehyde flavor that instills you into another world; the world of Wood Of Ypres.
I guess you can also call W.O.Y. 'organic' or 'doom' as regards this 80-minute, 16 tracker.
'W4: The Green Album' is unique and clever and will add to Wood Of Ypre's notoriety.
– Rich Castle
Death Scream – Heavy Metal Reviews – Heavy Metal Interviews – Heavy Metal News