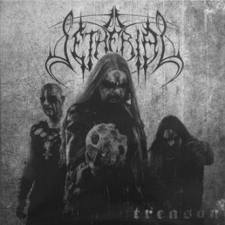 Setherial – 'Treason' 2011 7″-inch 2-song vinyl single
'For Dem Mitt Blod' which was released in 1995 as a 2-song EP limited to 1000 copies has finally been trumped as Setherial make infamous history again with 'Treason', all these years and 6 full-length studio albums later.
'Treason' is another infernal beaut'. This latest 2-song EP is limited to 500 handnumbered copies with the first 100 copies in black marble.
The music on 'Treason' is gobsmackingly great and is a real treat for those of the unlight.
What Setherial achieve with such controlled, aggravated menace and evenflow, should only be possible by having done a full album.
'Treason' is a complete and utter victory with a death-defying superfocus unlike anything I have heard in recent years.
Not all Black Metal warriors are created equal; certainly not Setherial.
Sundsvall, Sweden's Setherial are a band that should be on the tip of your tongue when speaking about who's who in the blackened sphere of Extreme Heavy Metal.
Setherial out underdog the best underdog cultists that you may care to name, like Zarathustra, Vondur, Occult, Enthroned, Naglfar, Bewitched, Nifelheim, Tsjuder, Aeternus, Summoning, Xibalba, Samayoi, Seikima, etc.
'Treason, A Death That Breeds Through Aeons' leads into the darkness first, accomplishing compactly at 4 minutes and 58 seconds.
The song is brooding, with mood-switching, tension-building parts.
Burzum is adept at this kind of thing that Setherial have made their own.
The screamy, icy cold Scandanavian Black Metal vocals could be pegged as being Immortal-like circa 'At The Heart Of Winter' or 'Damned In Black' albums.
Hoh-arrgghhh.
The Norwegian supergroup spearheaded by Samoth of Emperor called Zyklon-B who released the stark, shocking EP 'Blood Must Be Shed' way back in the dark past of the 1990s, are the guys who originally made up the cover song that appears on this Setherial EP 'Treason'.
And the song is called 'Warfare, God Is Dead'. It is a super underground classic. It is known to all trollfaring forest wanderers; a.k.a. War Metal heads.
It is a genious stroke that Setherial have come out and covered it here on 'Treason' as the second song.
'Warfare, God Is Dead' clocks in at 5 minutes and 15 seconds.
The song is given just the right bite by Setherial.
Sounding amazingly battle-ready the homicidal offspring Black Metal sub-genre called War Metal is celebrated here in fine style; Setherial have rolled out the red carpet to nail this track on it's head.
Warning: When the voice comes out of nowhere and announces God's predicament, I almost felt like I was going to have a heart attack or something – I got scared.
No exaggeration, folks.
I guarantee that at least a chill will run up your spine.
I have given away the punch line, haven't I?
But I'm not worried, you'll still be thrilled with the way that Setherial executes this
Zyklon-B tune.
A nice, steady pace is employed so don't expect a blastbeaten bloody massacre of a song.
Setherial are classy as all hell, on this one, as if they aren't great to begin with.
Strangely enough, also, 'Warfare – God Is Dead' is Setherial's best song since 'A Hail To The Faceless Angels' proudly walked the path of eternal fire on the very first official debut Setherial demo from 1994.
Hoist the ales; the dragonboats have arrived, bringing war ashore to all those who do not kneel at the first sight of the gleaming swingblade of Setherial.
– Rich Castle
Death Scream – Heavy Metal Reviews – Heavy Metal Interviews – Heavy Metal News