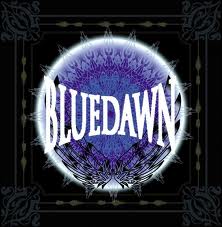 Blue Dawn – 'Blue Dawn' 2011 LP, Black Widow Records
One listen is all that it will take for you to realize that 'Shattered Illusions' is a raging hotbed of raucous energy. The haunting melodies that are the brainshake of lead singer, Monica Santos who comes makes her presence known come chorus time.
Her shocking intensity makes her ghostlike, combined with her mature raggedy Anne visual spectre. She cuts an imposing swathe on-stage. Check out the black and white spectacle of the official video for this song on YouTube.
The best Blue Dawn comparison guitarwise with another band might just be American act Warrior Soul.
Warrior Soul, for those of you who don't know, are a Punk/Heavy Metal act that started making records in the 1990s on the Def American roster. And as such, one of their labelmates on Def American was none other than Slayer.
Though no one can be as outwardly political as Kory Clarke, lead singer of Warrior Soul, Monica Santos' sung words for Blue Dawn are the product of a very outgoing spirit. The lyrics she gives voice to in all of Blue Dawn's songs are descriptive, with lyrics that conjure the most succinct images capturable by the human mind.
Formed in 2009 by Genova, Italy's musicians Andrea DiMartino on drums and Enrico Lanciaprima on bass, the guys took no time at all in enlisting trusty frontwoman Monica Santo before auditioning many guitarists.
The demonstration tapes that would follow the band shortly after it's formative stages, produced what we hear on Blue Dawn's 2011 LP.
Description:
Symphonic and Progressive on one hand and Hard Rockin' Metallic fervour on the other.
The Gothic Metal is not all-out, though, like you have probably heard with Evanesence or Nightwish.
Blue Dawn are not that easily categorized nor definable, which is a good thing nowadays.
Heavy Rockin' Doom is doled out by Blue Dawn on 'The Hell I Am', which comes in at number two best on the album, overall.
'The Hell I Am' tears out like it is 'Highway Star' by Deep Purple, personified, minus any Ritchie Blackmore-like antics; rather a more punk-edged lead guitar laced with tinges during the solo section not out of place on the late 1960's Proto-Metal album by Iron Butterfly: Anybody care to remember 'Inna-Gadda-Da-Vida'?
And if that was not enough nostalgia along comes a keyboard part not unlike that in Deep Purple's 'Highway Star' as Blue Dawn dust up a kicking close to 'The Hell I am'.
Black Widow Records, like Blue Dawn, also based in Italy, have scooped up yet another winner after recent full-length digi-packed LP slabs by Sancta Sanctorum and Abysmal Grief rolled out the aces.
'Crossing The Acheron' will probably appeal to Gothic sensibilities the most and is my pick for third best song on this 'Blue Dawn' album.
My top three picks off of this 2011 Blue Dawn LP, 'Blue Dawn', also show a good representation of the cross-sections of Heavy Metal that these Italian musos hit on so aptly.
– Rich Castle
Death Scream – Heavy Metal Reviews – Heavy Metal Interviews – Heavy Metal News