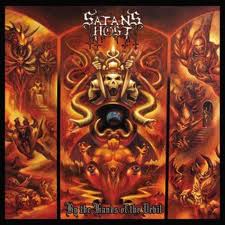 Satan's Host – 'By The Hands Of The Devil' 2011 LP
Looking for all intents and purposes like an Impaled Nazarene album cover, at least to my trained Metal Underground eyes, comes Satan's Host a-stridin' with it's newest infernal collection.
Satan's Host now should take front and center as there is a void that needs to be filled in the underground.
The one left by the ailing King Diamond. King's recent triple bypass heart surgery will surely need some recuperation time follow-up.
During this downtime for King Diamond you should check out this album by Satan's Host, their 6th full-length overall, entitled 'By The Hands Of The Devil'.
Satan's Host is a band led by the crowned-with-excessive-talent, ex Jag Panzer frontman, Harry 'The Tyrant' Conklin.
Satan's Host's first LP, 'Metal From Hell' from 1986 gave us the first, albeit ill-conceived, listen to a band breaking new ground for Heavy Metal.
Satan's Host were one of the first genuine attempts outside of Mercyful Fate and King Diamond or Venom to marry Heavy Metal and Satanism to create what is big business for Extreme Metal hordes today: None other than Black Metal.
Here is what are, in my estimation, the top three tracks on 'By The Hands Of The Devil':
'Before The Flame' – at just over 8 minutes long, is the best cut on the album.
Mixing more traditional Heavy Metal but with Black Metal's blast sections, though we are talking about not heavy reverbed drums as we find in the more international bands.
The guitars shimmer as 'The Tyrant' gives it his shiny pipes' best as he pledges his heart to his dark master.
Somehow 'The Tyrant' makes it all sound as blasphemous as the king of blasphemy- Glen 'The Bent One' Benton of Deicide.
Should you be surprised? No, because I am making this comparison for the fact that both of these frontmen could be said to have quite some nerve and a whole lot of bluster, also!
Note: Satan's Host are best remembered, by me as having an unreleased album called 'Midnight Wind' that Mr. Conklin and his boys sent me to check out in the good old daze of the later 1980s.
I thought that it was beyond strange, their version of the classic rock'n'roll hit, and I still do. It doesn't sound anything remotely like the original, and that's why it has always stood out in my mind.
If you really want the last best definitive answer on this old chestnut of a rock song you would be much encouraged to check out the loaded-with-spirit, Progressive Rock act called Just Offshore doing it up instrumentally on the self-titled 'Just Offshore' 2004 LP.
'Bleeding Hearts Of The Damned / Black Hilted Knife' – is the second best cut on 'By The Hands Of The Devil'. It's virtuostic  Hard Rockin' feel is quite a trip to be had.
Originality is Satan's Host's calling and for some, unfortunately, it might always be an achilles' heel.
This band is an acquired taste but I am glad to see Satan's Host returning to the roots of what could have been on the ill-fated, aforementioned already, 'Power From Hell' LP.
Previous albums from this century by Satan's Host have tended to be either overtly Heavy Metal, or Blackened Metal which I think is a more apt and better description to use to describe this band's pioneering musical style.
This song, curiously enough, breaks out for the 'Black Hilted Knife' section of the piece with something that could have been composed by the almost War Metal Canuck band, Blasphemy.
And I am talking about the guitarwork, specifically. Yet the vocals are unmistakably New Wave Of British Heavy Metal circa- 1982 meeting in a headlong collision with Udo of Accept fame's shrill cries.
'By The Hands Of The Devil' – is third best and is a slimy, Speed Metal meets Black Metal, beast of a tune.
This song is an extreme blasphemation upon the altar of Jehovah.
And, folks, I can't say I buy into this lyrical schlock.
Not at all.
And before you go thinking that this here writer, Rich Castle, is some kind of stick in the mud; I will tell you that I prefer Behemoth, Immortal, Marduk, Angelcorpse, Gorgoroth, Krisiun, or Abigor to get my slice of full-tilting over-and-out Black Metal.
– Rich Castle
Death Scream – Heavy Metal Reviews – Heavy Metal Interviews – Heavy Metal News