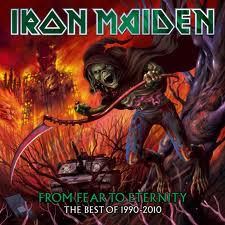 Iron Maiden – 'From Fear To Eternity – The Best Of 1990 – 2010', 2011 LP
We shall go to the end.
We shall fight in France
We shall fight over the seas and oceans.
We shall fight with growing confidence and growing strength in the air.
We shall defend our island whatever the cost may be
We shall fight on beaches, we shall fight on the landing grounds,
We shall fight in the fields and in the streets,
We shall fight on the hills.
We shall never surrender.'
This year that is 2011, Judas Priest announced their 'Epitaph' tour to be their last one ever.
Then K.K. Downing, one of Priest's guitarists calls it quits; events which I believe are somehow closely related.
All one has to do is to observe the humongous ramblings of the second album since the celebrated reunion with Rob Halford jetisoned J.P. back into the hearts of hellionic Heavy Metal fans the world over.
'Nostradamus', which goes on far too long for comfort because of how long it is for a studio album, and suffers from the worst thing a concept album can have, which is numerous pointless introduction pieces.
In a world that needs heroes, I dread the passing of one of the bands from what we here in Death Scream's pages have dubbed the fathers of Heavy Metal'.
Sighing as I write this: If you look around you will see the faces of these distinguished gentlemen in posters that say that dreaded word 'Epitaph' almost hard-coded into the latest Judas Priest promo pic.
Sure, it was the title of an early Priest number and all, but nonetheless, it is pretty depressing to have to bump into it all the time lately.
Just last year, J.P. started to let us know they were closing up shop so to speak, by releasing 'Setlist', a compilation of tracks taken from the batch of official 'live' albums they have.
It is always an interesting experience to hear the mighty Priest roar and make their studio material come to life in a raw barebones kind of way that their concerts always are.
Songs that might have suffered from a little too much studio polish, especially when the band caught the commercial bug originally back in 1986, at around the time of their 10th studio album 'Turbo', are a treat to listen to, performed 'live'.
Being a Heavy Metal band and putting it over as such, is the main aim of Priest on stage.
Rob Halford didn't do history any favors by releasing an album full of Christmas songs, all too recently, and helps spell out the end for the J.P. legend.
It is time to roll out the 'best of' collections: The 'Setlist' LP, a 'best of' the J.P. 'live' albums' material must signal that closing time for Judas Priest is just around the corner when it is viewed from the perspective of being a companion piece to the 2008 compilation of J.P.'s studio material, 'Playlist: The Very Best of Judas Priest'.
If you are feeling nostalgic by this point of the article, and are itching to buy something Priest related, then I will suggest 2002's 'Secrets From The Vault' LP.
It features nine songs that have appeared tagged onto remastered versions of the band's studio albums yet one look at the Japanese import nature of the album cover just might set your mind reeling back to a time when you first spotted the 'Unleashed In The East' album sitting in one of the bins of that little record emporium you used to spend a lot of time hanging out in.
Just earlier this year, the band synonymous with Judas Priest, fellow Brits Iron Maiden, released what shall be their final album: 'The Final Frontier'.
On the heels of these sad facts we now have the answer to 2008's first Iron Maiden career collection: 'From Fear To Eternity – The Best Of 1990 – 2010', this year's follow-up to the one three years ago 'Somewhere Back In Time: The Best Of 1980 – 1989'.
It consists of a 2-CD set or a triple 12-inch picture-disc vinyl cache.
The lines that I opened this review with comprise the whole of 'Churchill's Speech' delivered originally as a speech by Winston Churchill to the House of Commons of the Parliament of the United Kingdom on June 4th, 1940.
It was the second of three major speeches that was orated during, roughly, the period of the Battle of France. Churchill was appointed the month before to the position of prime minister for the U.K. He provided strong leadership during wartime and had to bear up to the military defeats of his country.
'Churchill's Speech' has been indubitably made famous by it's inclusion on Iron Maiden's fifth studio album, 'Powerslave' from 1984 as well as having key placement on both the first Iron Maiden 'live' album as well as the filthy rich, rock star excess-fueled outing from 2009 that is the 'live' album 'Flight 666' and it's video counterpart; 'Flight 666: The Original Soundtrack'.
'Churchill's Speech' has been amazingly bountiful as the preceding track introduction to 'Aces High' which can be retrospectively nicked as Iron's Maiden 'tribute to excess' song.
'Aces High' is a song that the lead vocalist cum professional air pilot, Bruce Dickinson, sings rollercoaster ride-like;'rolling', 'turning', 'diving'.
Dickinson loves cooing this one to the rivetheads that come to see his band play. He sings about living to fly and flying to live.
Dickinson, after 1992's 'Fear Of The Dark' which marked the completion of no less than seven I.M. studio albums with him on board, would leave the band in the hands of the third major singer to front the band, Blaze Bayley, for the duration of the 1990's that was left, as he sowed the seeds of a solo career that would make him what I think is about one third as well known as the juggernaut Iron Maiden itself.
If you are wondering how somebody could accomplish so much, in light of the career path J.P.'s Rob Halford took never slowing down as he fronted Fight, Two, and then Halford and then again with Bruce Dickinson and his solo break out in the 1990s, the admitted 'adrenalin junkie'; you'd be right to wonder.
These guys are the frontmen of mega loud and mega successful Heavy Metal father bands.
This old soldier that is I.M.'s classic track 'Aces High' also owns the strategically placed distinction of being the song  to usher in the first 'best of' album from the band,'Somewhere Back In Time', as the familiar strains of Maiden's past waft forward like a blazing monolith.
1980-1989 would bring forward much fruit for Iron Maiden. 'Somewhere Back In Time' is loaded up with the very best Maiden could muster during this stretch of time.
'The Number Of The Beast', 'The Trooper', '2 Minutes To Midnight' and 'Run To The Hills' are all there in amongst a bevy of other smashes the band doled out as a raucous Heavy Metal machine.
'The Number Of The Beast' has a spoken word introduction built into it's sturdy seams.
The deceased actor Vincent Price, known to horror film noire afficionados, serves up the action in what seems to be but is not an even more famous speech than the one that we hear Churchill dispatch on 'The Number Of The Beast' which sits atop the Iron Maiden catalog.
Woe to you oh Earth and sea
for the devil sends the beast with wrath because he knows that the time is short.
Let him who hath understanding reckon the number of the beast for it 'tis a human number. It's number is six hundred and sixty six
Price opines where shortly after good 'ol Bruce 'the air raid siren' takes over.
Bruce Dickinson was actually a hard sell to the bangers that became accustomed to previous singer Paul DiAnno, now white collar criminal, who sang on the first two Iron Maiden albums from 1980 and 1981; 'Iron Maiden' the self-titled debut LP and 'Killers', respectively.
Thankfully, there isn't much of Di'Anno era Maiden to be represented by on 'Somewhere Back In Time', and it seems like discussing ancient history almost since those days seem barbaric musically with what was to come for I.M.: 'Phantom Of The Opera', 'Wrathchild' and 'Iron Maiden' get a looksy though albeit in done 'Live' fashion by this globetrooping band.
Now, allow me to blow your mind a little bit: Where is 'Revelations' from 1983's 'Piece Of Mind' on 'Somewhere Back In Time'?
Bruce Dickinson always got worked up into a lather when singing about the Lord above.
Where is 'Rime of the Ancient Mariner' to be found on this first I.M. 'best of'. It is the first firecracker- like, huge romping, 4-digit time-wise long song that the band ventured forth with and is worthy of it's place in the 'Maiden hierarchy of songs for this reason alone.
Now I will get downright controversial: Where is the storming siege that is the warmongering 'Alexander The Great' to be found on 'Somewhere Back In Time'?
It isn't!
Where is the song that speaks about 'seven deadly sins', 'seven ways to win' and 'seven holy paths to hell'; I speak of the ode to the nocturnal kingdom that is 'Moonchild'?
The expansive synth-guitar that inflicts fear into the hearts of traditional pure Heavy Metal fans who couldn't fathom the use of keyboards in the Maiden mix is really something to behold. In this tune Bruce Dickinson assumes the role of the fallen angel, Lucifer. Where is this one on 'From Somewhere Back In Time'?
These tales that weave exotica's spell have all been left out on the first 'Maiden 'best of' collection.
At this point you all must realize something: Iron Maiden don't do stuff like other bands.
You can't possibly put I.M.'s music in a neat two boxes and expect it to settle and say it's their history.
Iron Maiden's album tracks work best when chained together throughout the course of full albums. It is almost as if each album is a complete cordoned off, seperate chapter.
Now in-concert things work quite differently with each song in a setlist building the intensity and harnessing structural energies that make I.M. concertgoers 'up the Irons' in jubilation.
The mix 'em / match 'em nature of Iron Maiden in front of a 'live' audience is a subject independent of the scope that this article will be taking in. It is a seperate kind of beast entirely. For this reason alone there shouldn't have been any 'live' tracks at all appearing on either 'best of' Iron Maiden album, past or present.
Iron Maiden along with Metallica, Slayer, Megadeth, Judas Priest and Black Sabbath format the top echelon of Heavy Metal music on planet Earth.
Just as surely as the Rock genre has as it's one, two and three; The Beatles, The Rolling Stones and Rush; so goes forth our beloved Metal leaders ahead of the pack to loudly announce sonic domination through primal scream relaxation therapies.
Iron Maiden got to the top of the Metal most certainly-not-scraps heap by always playing Heavy Metal; year in year out, song after bloody song, album after album, minute after minute.
It is this steadfast dedication that very few Metal bands, let alone human beings, can claim to have. So if you don't agree with my choices for inclusion on the 'Somewhere Back In Time' best of Iron Maiden for the years spanning 1980-1989, I have more disagreeing news for you as I will give you my picks for what should have been a part of the main course that is on offer for 2011; 'From Fear To Eternity – The Best of 1990 – 2010'.
But before I throw everything upside down and out of focus, I want to engage you readers in what those in the know picked out for sublime enjoyment by their peers and cohorts as what can best be seen as a composite look at the second half of the discographical career of Iron Maiden.
June 6, 2011 over there on that European side of the world, and June 7 in our land of milk and honey that is America comes 'From Fear To Eternity'.
The packaging is quite Halloween-like, as in the kiddie holiday on the 31st of October, for some very strange reason that might have more to do with my share of dead brain cells than the actual deal with the color coding and artwork for this album.
'From Fear To Eternity' is going to be released at the beginning of the summer, at least here in America, and I think something must be amiss. Hey maybe the album was supposed to be released last winter as the album cover is starting to irk me.
The album will also, to the triumphant din of trumpets please, be available via digital download for all the unadventurous and hard-working poor in amongst the denizens of Maiden supporters worldwide.
Onto the first track we have 'The Wicker Man'. Is this really the face of the second half of the career of Iron Maiden? An inauspicious herald to the beginning when compared to the bluster that was 'Churchill's Speech/ Aces High' that served the first half of the 'best of' business with I.M. so well.
'Holy Smoke' from 1990's 'No Prayer For The Dying' fits incongruously next. It makes no sense in the chronological or stylistic order of what this second 'best of' album should be. Then to cramp things up within relatively uncharted Maiden waters some more we have 'El Dorado'. Why do bands insist, like as was the case with this song, on releasing a bad song to ring in a new release?
'El Dorado' came out before the last Iron Maiden studio platter from 2010, 'The Final Frontier', their unbelievably 15th band outing overall.
'Paschendale' from the gleaming 'Dance Of Death' disc from 2003 deals a firm yet deadly blow to the listeners. 'Different World' has a terrific placement right after it's previous song.
'Different World' from the criminally underated 2006 I.M. opus 'A Matter Of Life And Death', and I am stressing it here, deserves to be enjoyed as it could have been formulated earlier in I.M.'s career.
The flow that the first songs had regardless of their caliber is ruined with the advent of' Man On The Edge – 'Live' which is trotted out much to the dismay of this here pundit.
'The X Factor' was an abysmal low point for the band as it drove away as many fans as roach spray does local critter populations. 'The Reincarnation Of Benjamin Breeg' shows just how terrific an album 'A Matter Of Life And Death' was and the appearance of this song is a good, good idea.
It serves to start a second stream of music on 'From Fear To Eternity'. It is a real, real long song that gets to flex every bit of itself thanks to there being no editing of any tracks for this album which is the kind of usual record company jurisprudence assigned to 'best of' albums which sometimes tends to occur in this musick biz that is a business like any other, sad to surmise.
Steve Harris plays his arse off all over this one with his inimitable bass style coming to the fore every few minutes, kind of poking at you like the instrument was a sharp stick with a hot poker at the end of it.
'Blood Brothers' fires it up next and hits the spot for what this album should be about; it should be all about chronicling teamwork as only a sextet band with such dense instrumentation as three guitars, one bass guitar, one drummer, and one lead vocalist is entreated.
'Dance Of Death' had it's fiery moments that were even better than this just mentioned, choice cut however.
'Dance Of Death' was truly the album that 'Brave New World' should have been.
As history has it with 20/20 hindsight, as usual, it would take two full studio albums for Bruce to really gel with the band again which is testimony to the greatness inherent to Iron Maiden.
'Rainmaker' may just be the best, most durable number in the second half of Iron Maiden's long career; that is for cuts that don't last over seven minutes and are relatively succinct.
I will also tell you now how 'Dance Of Death' may have not only have been the real second beginning but it is also the breaking point for I.M. as far as shelf life for the band goes.
And though I have remarked on 'A Matter Of Life and Death' being an underdog candidate in the band's complete history it is an album that is a very painstaking, hard wrought venture.
'Sign of the Cross- 'Live'– God help us all with this inky-stinky little number; absolutely throwaway material from the 'Virtual X' catastrophe. A brave new world, to use a I.M. album's title literally, was there for I.M. to take and do with the planet as the band wished but not every song can be a gift from God, as Maiden fans should be aware of.
It will take much time, so I will say it, for the newcomer or even some of the more experienced listeners to realize that here is a band who doesn't invert the cross and actually believes in what The Holy Bible says.
Onto disc two we have 'Be Quick or Be Dead' from the reliable and erstwhile venture, again, that is 'Fear of The Dark'.
'Tailgunner' is from 'No Prayer For The Dying' which started the 1990s on an ill note after Iron Maiden had steered seven studio albums in a row to a high pinnacle for Heavy Metal.
'Tailgunner' is all energy and nothing more and it fails to ignite here, as it always never did.
'No More Lies' should definitely, definitely not have appeared on a 'best of' Maiden collection. This song is a lesson about the truth whose title of the song is shouted annoyingly over and over on top of a staccato, stuttering riff.
Do you remember the song that was called 'Lessons' on the magnum opus by Rush that was the '2112' LP of 1976?
That song attempted to teach and that is always something that should be well steered clear of in Metaldom's universes.
The 'Dance Of Death' LP, from 2003, is where this tune emanates from and I don't understand why an album possessed of so much depth and breadth as this one had could have ended up having been plucked from so carelessly.
'Coming Home' from 'The Final Frontier' album of last year, 2010, doesn't do much of anything on here so let's get to the next cut.
'The Clansman – 'Live' pulls in next and is yet another cut from 'The X Factor' debacle and I can truly say that here is a brilliant, warranted and kind of unexpected epiphany that has gripped me especially since I have been so outspoken about this album from the deepest dank of I.M.'s septic tank better known to most of you as the mid to end of the 1990s period without Bruce.
I remember how tears would fill my eyes and I would abandon all hope as I pictured Bruce singing this one and giving it it's rousing cry of 'Freedom!', 'Freedom!' It remains liberating and the prank Western movie feel that it has really shoots up the wagon trail nicely.
In light of the death of a a family member just one month ago the words to this particular song speak volumes to me on the lyrics that give away the fact that at least certain factions of this band have a love for Jesus Christ.
In 'The Greater Good Of God' Mr. Dickinson gives voice to these words that give you an idea of subject matter rarely ever expressed in such a direct Christian-like manner: 'For the greater good of God he gave his life for us. He fell upon the cross to die for all of those who never mourn his loss. It wasn't meant for us to feel the pain again. Tell me why, tell me why.'
Next song in the queue is 'These Colours Don't Run', having a name about as appealing as the thought of watching ten commercials in a row about the latest scrubby detergent brand on the market and available in laundry rooms the world over.
'A Matter Of Life And Death' another cut is taken from again, and it is totally out of the question as to me trying to make sense of why it appears here.
Up next:'Bring Your Daughter To The Slaughter' from 'No Prayer For The Dying' is equally lacklustre. 'No Prayer For The Dying' was the first Iron Maiden album ever to bomb.
The 'Fear Of The Dark' album is carted out again for 'Afraid To Shoot Strangers' and it works like a charm pendant.
It is hypnotizing and mesmerizing.
This song is a perfect example of where Iron Maiden came from later on in their collective careers together. This album could have had a happy ending if it had an final song that stroked a positive chord, but sadly it is not to be.
Not too shabby is the next entry and perhaps it should've been the closer: The song is 'Dance Of Death' and it flat out smokes!
Now for the last song we may ever have thrown at us by Iron Maiden in a studio version form: 'When The Wild Wind Blows' brings affairs to a close on 'From Fear To Eternity' and it pulls some good poses and the guitars whittle away into the fading sunset but it is hard to call this song a favorite.
Not of mine at least.
Having said what I just said, the chance of another greatest hits collection would be a possiblity in, say, five years from now.
I shudder just to think of such far-offness, and that's just how I posit in general.
You've waited a long enough time to hear what I would have done differently for 'From Here To Eternity'.
I would've started with what may prove to be the inevitable last title track from an Iron Maiden album ever, that cut would be 'The Final Frontier'.
Now the cable TV network where I am, which is in The Bronx borough of New York City, plays this one in some kind of rotation set up I suppose becaue I have heard it several times in the last year or so.
The song works because the repeated line 'The Final Frontier' is sung really well over and over again.
It is very accessible unlike so much of Maiden in the last fifteen years or more. Bruce puts the hook of the song in you and that is scratching the surface of why this is such a likable track.
The next gem that was missed will really prove the haphazard, ramshackle nature of 'From Fear To Eternity'.
It is 'The Final Frontier' LP's 'Starblind' which is the seventh song on that ten song album.
Bruce Dickinson does his best Paul Dianno pretty well on this cut.
It is a passionate Mr. Dickinson performance with a bluesy lead guitar solo in it that finally favors what the man relegated to being called simply 'Maiden's third guitar player', Janick Gers and his old fashioned Hard Rock style does, as concerns this man's best strumworthy abilities.
The song builds into an abrasive, scalding lead guitar solo that is picked so hard that you can hear the actual plucking sounds as this long song scoots along and gains one burst of energy then another and another second and third and fourth wind.
This is one that if it doesn't cause you to raise your fist in the air, then I don't believe you like this thing called Metal.
The keyboards sound great on this.
Four melodic instruments can be heaven and heaven can't wait on this one; at least I couldn't wait to tell you about it.
You see I really do enjoy 'The Final Frontier' as it is stripped of all pretention and general tension; also it is really something to behold.
I will start to listen more to this hopefully not, although it certainly looks that way, final Iron Maiden studio-recorded disc.
There are moments like this song where I am inclined to think that if Iron Maiden were an inanimate object that they would surely be a fine wine.
Find me one person who doesn't like 'Starblind' and I will think that they must have a cerebroectomized brain the likes that poor 'ol Eddie  sports on the 1983 'Piece Of Mind' album cover.
If any album's closing track should of had to be inserted into 'From Fear To Eternity' it would be 'The Legacy'.
It's folksy lullaby-like opening strains form some of the most melodic in syncopation, on target, and just plain different stuff to be found by trapsing I.M.'s catalog.
'The Legacy' shows a deeper depth and inner working than any other composition by these Brit superstars. It is a intricate and difficult to play sort of number, also, I can tell.
In the part of the song where it picks up momentum I am reminded of what made singer Bruce Dickinson's own 'Accident At Birth' LP such an unexpected smash.
While I am at it I will also have to tell you right here and now that you should pick up the Bruce Dickinson solo album, best of collection: 'The Best of Bruce Dickinson' came out in 2001 on a double CD with the sort of length that the 'From Here To Eternity' LP boasts of.
It is a collection of songs that work great together and help ascertain the true meaning of what a 'best of' collection should be.
I know that there are not that many Iron Maiden fans who have all of Mr. Dickinson's albums.
Not that they are shoddy or contain throwaway material; Maiden aren't like that and neither is Bruce.
'The Best Of Bruce Dickinson' LP starts with the lead-off number 'Bring Your Daughter To The Slaughter' which I.M. also do and it is in it's original soundtrack version format.
I will note for you that nothing Bruce did in the new century with his solo career can compare to the almost shock that I was in after getting his collection, way back when. In turn it gave me high hopes for these two Iron Maiden albums that are being subject to a super-focused review here in Death Scream.
There are no special tracks on from 'From Fear To Eternity' like what can be found on Mr. Bruce's collection.
Now for a question: Who are these Maiden 'best of' albums for anyway? If it is for the next generation of I.M. fans as it must be, because if you love Iron Maiden you got all the albums that you want from them anyways; you don't need this one and the Maiden metal machine sure enough don't need your moolah at this point either.
Nonetheless, it is kind of sad watching the father bands of Heavy Metal like 'Priest and 'Maiden coming close to calling it a day.
– Rich  Castle
Death Scream – Heavy Metal Reviews – Heavy Metal Interviews – Heavy Metal News