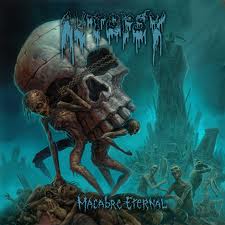 Autopsy – 'Macabre Eternal' 2011 LP
Following up on Autopsy's 2010's comeback EP, 'The Tomb Within' is the 2011 comeback LP 'Macabre Eternal' that puts things front and center for yet another Heavy Metal band to rise from the dead and make a comeback LP.
1995 saw the release of the fourth Autopsy LP, 'Shitfun', which really fell flat at a time when Death Metal really needed to shake things up in a big way.
The 'Mental Funeral' LP was the absolute peak classic Autopsy period way back in 1991. Along with 'Acts Of The Unspeakable', from 1992, Autopsy made what was undesirable and to-be-censored in this world a mainstay of their prowess.
Autopsy, who released a 'live' album back in 2004 for posterity's sake called 'Dead As Fuck' certainly stoked a lot of fires in the primordial minds of mental patients worldwide.
It took quite a huge mental reserve to partake of all the 'no-nos' that Autopsy liked to parade to the most daring of listeners, even as regards Death Metal.
The side of Autopsy that doesn't work:
A little bit 'o' Doom and a large helping of Metallica makes the 11 minutes and 16 seconds go by quite laboriously during 'Sadistic Gratification'.
The cries of the wench being tortured is accompanied by some quite nice bloodcurdling screams, though.
The spoken word on this cut doesn't work at all and seems to be added just to make the song longer.
Anyone as accustomed to the sounds of Autopsy will know that some of their absolute best tracks are usual very short. The title cut, 'Fiend For Blood', is a perfect example of this fact.
The side of Autopsy that does work:
'Hand Of Darkness' is a lot like Morbid Angel as it explodes with classic primitivity and it is played at a decent speed.
Adorned with a crude hodgepodge of oogly riffing with Slayeritical soloing makes it work real well.
'Dirty Gore Whore' is by far the best track on 'Macabre Eternal' and 'Born Undead' is definitely number two.
Drummer Chris Reifert of Autopsy played on 1987's debut Death LP, 'Scream Bloody Gore'.
'Born Undead' sports all manner of Reifert's vocal exhortations.
There is the usual Autopsy Slayer emulation going on during 'Macabre Eternal'.
Waves of self-gratification are ever present though just why we needed more Autopsy albums I still haven't figured out too much.
The production is good on this latest Autopsy album but the mixing job buries many of the guitar's mid-range frequencies allowing only Chris Reifert's tom tom drums to come through.
Reanimated old Death Metal corpses are the big funereal rage these days with all the old geezers that play this brand of Extreme Heavy Metal coming back for another helping or two.
2011 has been crowned by the Floridian magnificence of Florida's Hellwitch LP, 'Omnipotent Convocation' which I shouldn't need to tell everybody but I will:
It is great and is done by the other band that made Death Metal history by being there first; the aforementioned 'Scream Bloody Gore' by Death.
– Rich Castle
Death Scream – Heavy Metal Reviews – Heavy Metal Interviews – Heavy Metal News