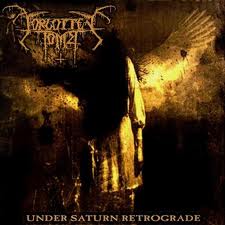 Forgotten Tomb – 'Under Saturn Retrograde', 2011 LP
Forgotten Tomb is an Italian blackened Doom Metal band that was formed in Piacenza, Italy in 1999.
The Gothic, Industrial, Dark and Operatic Black Metal had been going for about 10 years and have definitely figured into the horizons that the band would
explore.
Katatonia, Paradise Lost, Burzum and Dolorian all figure into the depressive bent the band are fixated on.
'Songs To Leave' was released in 2002 followed by 'Springtime Depression' in 2003, and 'Love's Burial Ground' in 2004: These are the names of the studio albums that Forgotten Tomb has put forth.
Avantgarde Music progressed by band by releasing the 4th Forgotten Tomb album- 'Negative Megalomania'. 'Megalomania', of course, was a song by Black Sabbath from Sabotage.
An interesting album followed called 'Vol. 5 1999-2009' with Forgotten Tomb, most notably, covers of Nirvana and Black Flag.
2011, finally, has brought 'Under Saturn Retrograde' and OMG; the album has a color coverd. No more black and white for the 'Tomb.
Herr Morbid, on guitars and vocals
Razor SKI, on guitars
Algol, on bass
Asher, on drums:
This line-up created 'Under Saturn Retrograde'.
And it might be of interest to note that Forgotten Tomb, five albums in, have decided to go a little more traditional. The demeanor of the band has swung from depressingly bleak to sheer melancholy.
The Stooges cover, 'I Wanna Be Your Dog' is delivered with enough pure angst to lead me to believe that if these guys had come out in the 1970s that they might have been an eclectic Punk band.
Shadowkings like Paradise Lost and Katatonia continute to pervade Forgotten Tomb's compositions.
The man known as Herr Morbid, the heart and soul of these boys emotes his rousing vocals along with some of the cleaner vox that make their way into the grooves on this new album.
'You Can't Kill What Is Already Dead' is my pick for best cut on this new album. The way the power chords slice through 'Shutter' belies one of the reasons that you need to check out Forgotten Tomb.
I still see this band, though, going through a mid-period change and this album cuts a lot of new ground.
'Under Saturn Retrograde Part 1' encompasses both the rock 'n' roll characteristics as well as providing the full blast of Black Metal verociousness that rips at the hapless listener.
'Under Saturn Retrograde Part 1' opens with acoustic guitars and develops into a harmonic section.
Katatonia, Paradise Lost, Tiamat, and country mates Sancta Sanctorum, all play a huge role in defining the sound of Forgotten Tomb.
Remaining prolific and dedicated, I see a lot becoming of this band.
This album however may not be the best place in the band's catalog to start.
If you want to achieve the right mindset, being new to the band if you are, I would go back to the second and third Forgotten Tomb albums.
– Rich Castle
Death Scream – Heavy Metal Reviews – Heavy Metal Interviews – Heavy Metal News