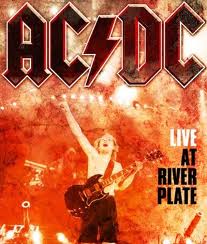 AC/DC – Live At River Plate DVD
Turns out that AC/DC really are like a real life can of nitrous oxide.
Like a Heavy Metal can of whippits that you suck in the air from the can and watch the world become hysterical — I can't make an easier comparison.
For a band that has been together for nearly forty years — I will say it again for those of you who don't read everything in Death Scream that  the website known as Encyclopaedia Metallum doesn't consider these guys to be a Heavy Metal band at all.
They seem to think that these guys are Hard Rock.
Poppycock!
AC/DC are balls to the wall Heavy Metal and remember that you read it right here in Death Scream.
A definitive live concert DVD documenting AC/DC's massive Black Ice World Tour is what is on offer here.
32 cameras shot this one completely in high definition for the 'high voltage' ones. The Black Ice World Tour was a major success.
AC/DC returned to Buenos Aires to play to 200,000 of the most rabid fans on the planet over the course of three sold-out shows.
It had been 13 years since the crazier-than-most-because-they're-South-American people last seen the band down in the southernmost hemisphere of the United States and it gets extremely hot down there. These guys welcomed AC/DC like the conquering heroes that they truly are.
The crew and the fans are interviewed as a bonus on the DVD and this traditional type film maneuver really makes for the feel of a special, special package. Then there is 'The Meat' which is some animation that has been done that is top notch. It adds to the overall excited feel ensconced here that is so ingrained that it is just palpable how nutty and good the video as a whole is.
'Rock 'N' Roll Train' pulls into it's pit stop here and is definitely the best song that these Australian boys have pulled off in a dog's age.
'Hell Ain't A Bad Place To Be' is so, so spooky the way it is pulled off. Especially if like me you remember good ol' Bon Scott who used to sing for this band and sadly passed away quite young. Brian Johnson conjures up his ghost at will it would seem as this is an old AC/DC tune that never loses one bit of it's luster when this quintet strike it up for it.
'Back In Black' is the trillion dollar hit it always is and should be noted as the heaviest song that AC/DC have in their catalog, also.
'Big Jack', 'Dirty Deeds Done Dirt Cheap'- always a ton of fun, 'Shot Down In Flames', 'Thunderstruck'- a real Heavy Metal number, 'Black Ice'- maybe worth the price of admission to hear how this new song melds seamlessly with songs written 30 years ago, 'The Jack'; follow one after the other to take this DVD into overdrive.
'Hell's Bells' starts with the ominous bell effects and forgive me if I felt like getting up and saluting an Angus flag: Heck, this video makes me feel plain stupid and I love it people!
'Shoot To Thrill', 'War Machine'- not really a good song at all but who cares?, 'Dog Eat Dog'- another song that was never a favorite of mine and the video starts showing some obvious flaws as the instrumentation is a little uneven here also, 'You Shook Me All Night Long'; the pace has slowed down.
Leave it up to the stokin' 'T.N.T.' to light a metaphorical fire. It is headed up by'Whole Lotta Rosie', 'Let There Be Rock' and 'Highway To Hell' all ushered in recklessly.
And the piece de resistance is finally delivered in the form of 'For Those About To Rock, We Salute You'.
Shucks.
A must, not a maybe, purchase.
– Rich Castle
Death Scream – Heavy Metal Reviews – Heavy Metal Interviews – Heavy Metal News