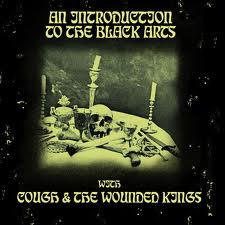 Cough/The Wounded Kings – 'An Introduction To the Black Arts' 2010 LP, Forcefield Recs.

Cough – 'Ritual Abuse' 2010 LP, Forcefield Recs.
Not since Candlemass wowed this doomed planet with their 'Epicus Doomicus Metalicus' opus has there ever been a band that has dug a whole so deep in the trenches to deliver an album as heavy as Cough has with 'Ritual Abuse'.
'Ritual Abuse', the title track, clangs and stomps all over the place with it's doom-dancey worthiness. Cough have concocted, as of this their second album, the perfect combination of Black/Hellish Metal and Doom/Sludge Metal.
Minus any Stoner Metal, misguided meanderings, there is nothing but Doooom on this album my friends!
An early Candlemass, circa the 'Nightfall' 1988 LP, type riff propels 'Crippled Wizard' along. Disgusted vocals cough up the lyrics on this track. I haven't been so impressed by a Doom Metal band in a long, long time.
If you are a fan of Sleep, Electric Wizard, Cathedral and Sheavy; you might just throw their albums in the garbage after taking in what Cough have to offer on their second album, 'Ritual Abuse', from last year- 2010.
Enter Cough in 2011:
Grimier, more morbid and sludgier than ever; Cough have given us fans something to imbibe and go mad from; just from, as it is coughed up – 'Standing in the gates of maddddddness' – as the vocals chime on the one gargantuan, nigh on 20-minutes song that makes up Cough's half of the 'An Introduction To The Black Arts' Split LP with The Wounded Kings.
It is a masterstroke that each of these two bands contribute a super-long song on this album as it works really well as a whole.
'The Gates Of Madness' starts with a crusty, distorted guitar feeding back and droning on and on for the first few minutes of this featured song. A gong-like drum beats every 30 seconds or so. The tension builds very nicely and evilly slow. At 3 minutes and 30 seconds the vocals butt in for the first time and issue echoey, spewed hateful lyrics.
Cough rule the roost for crawl speed.
Black Metal meets Doom Metal like it has never, to my ears, been done before.
At 7 minutes and 40 seconds, clear vocals portrude. An old-fashioned, guitar wah-wah pedal is wheeled out, a la the Doom Metal crawl masters Saint Vitus, to take this epic tale past it's halfway point.
The brooding kicks in deep as 'The Gates Of Madness', which was recorded in Chicago Illinois in October of 2009, continues to throb it's substantial thickness, into it's final ten minutes.
The last half of the song consists of dissonant riffing and a bluesiness that could only have been picked up by listening to Black Sabbath's extended instrumentalisms found not on the original Doom Metal champions' albums but rather on stage where the band was known to slow up and play heavier.
Two different vocal styles can be found on 'The Gates Of Madness': Cough have taken a raspy, metalesque snarl for the tone of the lead vocals when they want to emulate Black Metal and paradoxically revert back to the more traditional coolness inherent in the vocalisms of, say, Cauldron or Witchfinder General or simply Ozzy Osbourne, as the band deem fit.
Both 'clean' and 'Black' vocal styles work together to make this song a winner. Cough's Doom Metal supernaut has touched down, truly, as of 2011; 'The Gates Of Madness' is a spectacle that I don't want anyone to miss.
Now onto the second half of 'An Introduction To The Black Arts' LP, where Dartmoor England's The Wounded Kings do 'Curse Of Chains'. Another monstrous track on this album, clocking in at 15 minutes and 3 seconds.
Atmospheric and eery, T.W.K. are the perfect foil to the band Cough. For some reason, borne out mostly of the fact that T.W.K. have a Horror soundtrack-like, Heavy Metal music nature — they bring to mind on 'Curse Of Chains', the recent film 'Bloodstone'.
'Bloodstone' is a special effects-laden horror movie about vampires.
Come to think of it, the stark black and white album cover for 'An Introduction To The Black Arts' also reminds me of the  movie, 'Bloodstone', which I incidentally just saw a few nights ago on Netflix.
The Wounded Kings have made two albums to date: 2008's 'Embrace of the Narrow House' and 2010's 'The Shadow Over Atlantis', both on the 'I Hate' record label.
Sad, because the band are so effective on this album. The Wounded Kings will not sound like the Esoteric-like, funeral Doom so perfectly captured on their half of this Split LP anymore because of the fact that two key band members have moved on.
Supposedly, to the best of my knowledge, the band is soldiering on regardless. Psychedelic and '70's decade- infused is 'Curse Of Chains'.
It is important to note that the 'An Introduction To The Black Arts' LP has become an instant rarity due to it's being 'limited to almost 1500 copies', that is according to what I have seen written in a review of the album on the Encyclopaedia Metallum website.
I haven't had a chance to substantiate this fact yet, though.
If you like haunted houses and scary sludginess in your Heavy Metal daze, then you will need 'An Introduction To The Black Arts'!
And don't forget to pick up the crescent moon- bedazzled, sophomore album by Cough: 'Ritual Abuse'.
– Rich Castle
Death Scream – Heavy Metal Reviews – Heavy Metal Interviews – Heavy Metal News