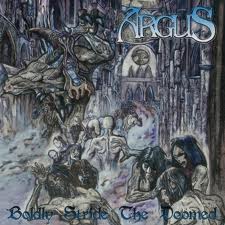 Argus – 'Boldly Stride The Doomed' 2011 LP, Cruz Del Sur Music
Argus, who are a twin guitar-driven, Doom-speckled Heavy Metal band from Pennsylvania  released their self-titled album 'Argus' in 2009 on Shadow Kingdom Records.
The band feature former Penance vocalist Butch Balich who has a totally Metal, booming voice.
Argus, as a whole, could best be likened to the Doom Metal legends Trouble, in overall approach and style.
Italian Heavy Metal label Cruz Del Sur Music have now released the sophomore effort by Argus, brilliantly entitled 'Boldly Stride The Doomed'.
Here are the outstanding tracks amongst the ten on offer:
Track 3 – 'Wolves Of Dusk' – Heavy as lead chords bear down as a cool riff chugs along. The drums join in and the doomicaust begins. This could just as well be early Savatage. It has that same spirit that the Oliva brothers' chemistry produced to make Savatage so awesome some years back. Now mix in the doominess and stance of Candlemass, and like the eye of newt and the toe of frog the song boils over like a witches' brew.
Track 5 – 'Durendal' – Hmm.  Kiss– like lead guitar sensibilities? Yep, and for this number I will say that the band Saviour Machine sound a bit like Argus, here. Almost 15 minutes of insanely good Heavy Metal. Solid as a freakin' rock.
Track 8 – 'Fading Silver Light' – More bludgeoning guitar riffing. Epic sounding and more uplifting than most of the rest of this album.
Track 9 – 'Pieces Of Your Smile' – Leather Nun's 2007 album, 'Tools Of The New Church' has a bit in common with Argus on this track. Argus sure brings lots of solid Heavy Metal bands to mind; both past and present, depending on the song.
'Pieces Of Your Smile' is almost 11 minutes long and it ends up being a mite bit too long in the tooth. I still like this track and the other three I have mentioned, the most, from an album of Pure Metal that they just don't make enough of anymore.
The other tracks on this album are:
1. 'Abandoning The Gates Of Byzantium'
2. 'A Curse On The World'
4. 'The Ladder'
6. '42-7-29'
7. 'Boldly Stride The Doomed'
10. 'The Ruins Of Ouroboros'.
Hail the new godz of Argus!
– Rich Castle
Death Scream – Heavy Metal Reviews – Heavy Metal Interviews – Heavy Metal News