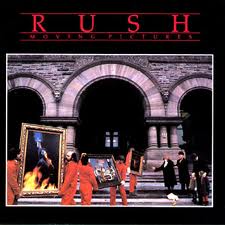 Rush – 'Moving Pictures' 1981 LP – 2011 re-release in 5.1 Surround Sound
30 years ago the 8th studio album 'Moving Pictures' by the Canadian Prog Metal/Rock band, now superstars, Rush was released.
It signified a coming of age for this prolific, immensely talented trio. The success of the previous year's album, 'Permanent Waves', catapulted Rush to the point where the radio was now playing their hits. Previously a Progressive Metal outfit with a lot of rock 'n' roll tendencies, Rush as of 'Moving Pictures' in 1981 would be able to carve their own original path forward. 11 more albums have followed to date with a new 2-song single 'Caravan/BU2B' burning up the charts and lighting up the stage. Rush have worked hard and are now one of the top Rock/Metal bands of all time. The 20th studio album, already entitled 'Clockwork Angels' is in the pipeline and last I heard probably will be released in early 2012.
Rush in 2011 are on the tour that the band have dubbed 'The Time Machine Tour' and thus are playing all seven songs that comprise 'Moving Pictures' in their entirety.
To celebrate this occasion, 'Moving Pictures' was reissued on April 5th, 2011 as a 5.1 surround sound remix along with music videos, rare photos, liner notes and more.
There are two versions available. They are as follows:
1. A digitally remastered CD plus DVD
2. A digitally remastered CD plus Blu-ray. For this Deluxe Edition, the DVD and Blu-ray discs will feature the album and three bonus music videos, 'Tom Sawyer', 'Limelight' and the previously unreleased clip 'Vital Signs', in both a stunning 5.1 surround sound mix supervised by the band's Alex Lifeson using the original multi-tracks and in newly remastered stereo from the original analog master tapes.
Both DVD and Blu-ray formats boast 5.1 surround sound and stereo audio in 96kHz/24-bit high-resolution audiophile playback, offering 256 times more resolution than CD audio.
What all this means is that the listener is treated to hearing the closest thing to actually being in the studio with Rush.
So what does it sound like?
First off, do not think that this is the standard remastering thing that has gone on with the re-issuing of many 1970s and 1980s Rock/Metal/Prog bands. It is not. Rush have made recording history with this reissue.
Most bands wouldn't want you to hear every nuance of their playing as you may be able to better pick out errors. Rush are consummate musicians, of the classically trained variety, and thus they hardly ever make what can be termed as 'mistakes'. Rush are never sloppy on their studio albums. Everything is orchestrated and Neil Peart's swing-jazz flavorings and attention to detail, on the drums, means that Rush do not sound stodgy and rigid but rather that the band grooves and moves as one cohesive unit always.
'Moving Pictures' for 2011 sounds like a whole new album. All seven songs now do nothing short of blowing you away.
It is actually the most intricate songs that benefit most from all the tweaking that has gone on for this reissue. Closing number, track 7 – 'Vital Signs' and track 5 – 'The Camera Eye', in particular, pack a previously hidden snap and wallop that was previously not detectable.
It is obvious that in 1981 Rush were a fearsome force. The two aforementioned numbers are very technical with breathtaking speed changes and highs and lows in volume that resemble a rollercoaster ride.
Almost tailor made for the occasion and sounding more engaging than what I ever remember hearing originally is Track 6 – 'Witch Hunt'. The percussion instrumentation on this track is very involved and subtle and comes across very well, indeed.
'Tom Sawyer' and 'Limelight' are the two songs from this album that have received the most airplay on the radio. These hits are reborn and all the reconnoitering has done them well. The crisp, clean chords struck by Alex Lifeson at the beginning of 'Limelight' have never sounded so masterful.
'YYZ', the album's instrumental showcase, is as entertaining to listen to as ever. The band have always relied on instrumentals to showcase their immense individual musical talents.
Track 2, 'Red Barchetta' has always been my personal favorite from 'Moving Pictures' and as I listen to this album with it's unbelievable sound, I can almost feel the wind
'shifting and drifting' through my hair as I drive the treasured car that lyricist/drummer Neil Peart has written about as the storyline of this song.
In an age where the Internet has people focused on staring at the screeen while listening to music, Rush have returned the essence of music to where it belongs; and that is the listening experience.
Like the song 'Tom Sawyer' says: 'Love and life are deep/ Maybe as his skies are wide'.
Maybe you will deepen your appreciation of Rush by getting this special album. 'Moving Pictures' represents the well-oiled machine that Rush have become 30 years on.
– Rich Castle
Death Scream – Heavy Metal Reviews – Heavy Metal Interviews – Heavy Metal News