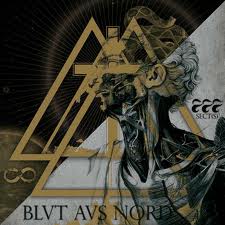 Blut Aus Nord – '777: Sect(s)', Debemur Morti Productions
There is always something about the French language that leaves me guessing. Especially as concerns Extreme Metal. The band Misanthrope, from France, raise the most question marks in my head.
One only has to look at the Frenchmen superstars that is Canada's Rush, as concerns their hard-fought rise to prominence. Their 1976 '2112' opus seemed to raise hell about a utopian future that in reality was a well-disguised, open letter of intent to the powers that be in the music business that makes aspiring bands jump through hoops to achieve popularity.
Rush were straining the limits of the music industry and their own selves to show the world the greatness they could achieve and have surpassed achieving to become Rock 'n' Roll's number three band of all time.
Blut Aus Nord's dedication to their art has endeared many to their heads down, ultra-serious take on Black Metal. B.A.N. are true to their art.
First some explanation: Blut Aus Nord are bound to raise more than a few eyebrows with their new studio LP, '777: Sect(s)'. '777: Sect(s)' is the first in a trilogy of albums to be released this year, 2011. The other two parts will follow in September and November, 2011.
By the way B.A.N. are basically a Black Metal band, Blut Aus Nord's band name is German and literally translates to 'Blood From North', but it's grammatically incorrect.
Blut Aus Nord have been making full-length albums since 1995 and those heavily into Extreme Metal may remember their perfectly strange exclusive cover of Godflesh's 'Mighty Trust Krusher' from the Nihilistic Holocaust Recs.' 'Godflesh: Tribute' album, from 2003.
'777: Sect(s)' is album number 8, for this harding working band with a few EPs and a single release along the way.
Fans of Blut Aus Nord have been able to count on new material every year or two. The biggest gap in B.A.N.'s discography has been the 5 years inbetween the second album, 'Memoria Vetusta I: Fathers Of The Icy Age' and 2001's 'The Mystical Beast Of Rebellion'.
'The Mystical' is worth talking about at this point, also, because this ambitious album marked a notable progression away from Black Metal's reactionary compositional framework.
What I mean by reactionary is the agitated quick yet deadly effective delivery most notable in Black Metal by listening to Bathory's first two albums- 1984's self-titled 'Bathory' and 1985's 'The Return'; Hellhammer's 'Triumph Of Death' CD,  a famous compilation of outrageous early demo tapes; and all of the catalog entries of Sweden's Marduk and Austria's Abigor.
'The Mystical Beast Of Rebellion' contained in one of it's deluxe packagings, a new compositon in three parts: 1.) 'The Fall: Chapter 7.7′- 8:20, 'The Fall: Chapter 7.77 – 9:30, and 'The Fall: Chapter 7.777' – 19:21. The album itself contained the song 'The Fall'  with each song being a chapter, thus: Chapters I-VI. As you can tell, Blut Aus Nord, do not want to be an easy act to follow.
Avant-garde Black Metal, Industrial Black Metal, Atmospheric Black Metal are all trusty adjectives to use in broadly defining B.A.N.'s musical style.
If this review of this complicated band sounds interesting I would direct you to first purchase Blut Aus Nord's 'The Work Which Transforms God', B.A.N.'s 4th album, from 2003.
'The Work' will introduce you to one of the best guitar tones I have ever heard on a Black Metal album.
For those in the know, Burzum, Slayer, Bathory and Opeth surely are masters of the great, gloomy and dark guitar tone. For you see, dear reader, Black Metal is all about atmosphere. The only band that comes close to being like B.A.N. is Osculum Infame, also from France, though hardly as successful.
So as you can see, B.A.N. is a band that requires you do a little homework before drinking of the luscious wine that is the smoothly flowing '777: Sect(s)'; consisting of 'Epitome' in 6 parts thus 'Epitome- I-VI'.
'Epitome I' begins with an full-frontal attack which then backs off into a lengthy instrumental section that isn't as heavy as the beginning of the song. Enter one Mr. Vindsval's raspy crowing which brings the heaviness back before the weirdness that is the conclusion of this track.
'Epitome II' is all blaring guitars and booming drums with occasional vocals, in the background, buried strategically in the mix that makes the track seem heavier than what it really is.
'Epitome III' is the track where everything goes kah-blooey. Screams tear out at obtuse angles amidst the swirling vortexed cacophony. This dense layering of 'Epitome III' doesn't allow for much breathing room. B.A.N. have pushed the limits of the listener and the Black Metal genre to a point where you may not even like this piece.
'Epitome IV' messes with your head a little less except for the panic attack inducing time signatures. The vocals which echo from afar are that of the beast itself, from hell. By this point in time on this album you will realize that Blut Aus Nord are a gut-wrenching, soul-ripping, ultra heavy proposition. You will go away from having heard this album understanding the ugly part of this world's reality a little better, or at least from a new perspective.
'Epitome IV' is nearly 12 minutes, celebrating what the previous three 'Epitomes' have built up to; via different sections of the song, all underpinned with industrial drumbeats.   After about the halfway mark of this track, there is a return to the old school of Black Metal for a couple of minutes before the comparitively serene Prog ending.
'Epitome V' is the victorious answer to the previous track, 'Epitome IV'; if you are still listening, that is! Well, I hope you are as 'Epitome V' as well as the closing 'Epitome VI' are the payoff for the battle-scarred listenership.
Pummeling drums and aggressive brilliant guitar chordation lead 'Epitome V'. No longer is there any compassion in B.A.N..
B.A.N. have become masters of misery, with cold bleakness and pain to get you grudgingly through your day/night.
'Epitome VI' has come to wash away any vague, happy hopes that you may have had.
I want you readers to be aware of one thing before I conclude this article. And that is that B.A.N. are not virtuosos.
Take this to mean whatever you want it to mean, I am just letting you know that '777' is not a place where musicians are showing off their chops/skills. '777' is best described, in total, as a sucker punch to the face of those who doubt the workings of Black Metal musicians.
'777' is the conclusion of Part I of a trilogy that hopefully will see the light of day in full by 2011's end, as I touched on before. For now, I can say that B.A.N. have made a personal masterpiece.
Black Metal also lives in the machinery and the technology that man possesses. Blut Aus Nord utilize mankind's machinations to fly the Black Metal flag for 2011.
'777' is a challenging album that B.A.N. have entrusted to the smart consumer. Twisting and turning Black Metal in every way possible; from creative soundtrack like sections to dissonant, disjaunted nuances to the blackened raw crust that is it's angry, cold-yet- passionate dark heart.
After 25 years of Black Metal albums, for this subgenre of Heavy Metal as a whole, Blut Aus Nord are forging the future.
Another two names to throw at you in understanding where B.A.N. are coming from in 2011, is Meshuggah and Sonic Youth. Incorporating other musical styles to congeal as a Black Metal whole can be done and is done and Blut Aus Nord are the proof.
777 is a masterstroke. I can't wait for the next two parts to unravel the epitome; a.k.a. the truth of it all, as told by B.A.N.
Bravo, Blut Aus Nord!
– Rich Castle
Death Scream – Heavy Metal Reviews – Heavy Metal Interviews – Heavy Metal News