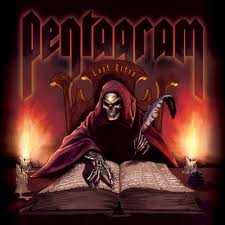 Pentagram – 'Last Rites' 2011 LP
Only the best of the best bands in the world can persevere and last 30-40 years, irrespective of who comes and goes as regards band members.
Not to mention having to flit from new band name to new musical style; being solid as a rock. The world, at large, was built on mainstays. Those who will not compromise. Those who stick to their guns.
Pentagram is on the these special bands.
Pentagram, from the U.S, and 'Be Forewarned' from 1994 is a bonafide metallic staple in recorded history.
Possessing all the Heavy Metal – Proto Metal – Hard Rock clout borne out of their humble beginnings in the early 1970s doing single record after single record, Pentagram is a band who practically invented the term 'Heavy Metal Underground'.
Today, in 2011 we have the whole sub-genre of Heavy Metal known as either Doom Metal and what I will call Black Sabbath derived Heavy Metal. Pentagram are both of these. Excepting the fact that Pentagram were influenced by Black Sabbath before they became legends; rather it was as fans along the way while Tony/Ozzy/Geezer/Bill were delivering one great album after the next during their prime in 1970-1978.
Steve Marriott, Robert Plant, Ian Gillan, Ronnie James Dio, Roger Daltrey, and Ozzy Osbourne were forging the template for Heavy Metal singing, at the time, and starting at the same time in history has rubbed off on Pentagram.
Bobby Liebling on vox and Victor Griffin on guitar is the magical reunion that makes 'Last Rites' shine like a crazy diamond.
Right from the off we're given 'Treat Me Right' where if it were possible a Lemmy-less Motorhead would be the name attached to this recording.
I am thinking of 'Bye Bye Bitch Bye Bye', the newie from Motorhead's 'The World Is Yours' for musical alliteration.
'Treat Me Right' has a fat riff and is a solid track. I am so glad that  this first Pentagram record in seven years, alluding to 2004's 'Show 'Em How', is rumored to contain stuff the band was working on in the 1970s as bands seem to make a lot of good stuff in the earliest hungry days. To coin an old, old phrase: 'Last Rites', as an album, simply rocks!
The Hard Rock infused Heavy Metal ingredients are dished up on 'Last Rites' in the form of these two excellent numbers: 'Everything Turning To Night' and 'Walk In Blue Light'.
Then there is the pure no-thinking-cap needed hard rocking 'Call The Man'.
On the trademark overall bleak side of Pentagram, which showed through a little too much on 2001's 'Sub Basement' album is 'Into The Ground'. I happen to like it.
The best song is a track cleverly titled '8'. 'American Dream' also scrapes the doldrums into something workable and is my second favorite on the album.
All the aforementioned are favorites of mine also as I am a big fan of Pentagram and I enjoy the fact that they have come together again to grace us fans with a newie.
For those of you who dig Doom Metal in the grand Black Sabbath style, I would hope you are equipped with these Pentagram stapes:
'Relentless'- 1985 and 1987's Day Of Reckoning. You can skip 1999's 'Review Your Choices', though, as I felt Pentagram were just treading water on that album.
Pentagram are a cure for the summertime blues that 2011 will surely have some of.
– Rich Castle
Death Scream – Heavy Metal Reviews – Heavy Metal Interviews – Heavy Metal News