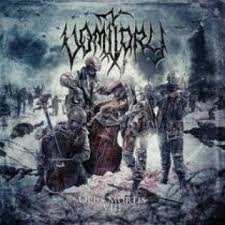 Vomitory – 'Opus Mortis VIII', Metal Blade Records
For pure Death Metal escapism; and fun is what this music is supposed to be about sometimes, you can't do better than the morgue clangor that Vomitory from Sweden is
making these days.
Woohharrggh!
Ya.
You better believe it.
Vomitory are turned up to the max on volume and distorting the cylinders of human frailty.
All is done on 'Opus Mortis VIII' with a refreshingly clean and clear production. The sound on this new one by the veteran Death Metal Swedes is awesome where every nuance of the band is clearly defined.
'Opus Mortis VIII' is true state-of-the-art Death Metal for 2011. Vomitory have truly arrived and are right where they should be with the sound picture.
'Terrorize Brutalize Sodomize' is what the no-hardcore-punk-influences-thankyou Vomitory do, as well as not drown in the sea of melodic blackened death that Sweden became known for thanks to a lot of this country's bands doing that inbetween thingie known as  'the Gothenborg sound'. Sweden's Godgory, Sacramentum, God Macabre, Gates of Ishtar, Aeternus, In Flames, Callenish Circle, (exceptions are Dissection – who have direct ties to Power Metal, and Amon Amarth due to their Viking bent) are examples of Swedish so-called Melodic blackened Death Metal, never hitting the spot for me like Grave, General Surgery, At The Gates, Dismember, Entombed, Unleashed, Edge Of Sanity and Fleshcrawl do- who now are the best comparison to make to Vomitory 2011.
'Terrorize Brutalize Sodomize', for all of you Death Metal heads who have possibly been living in a cave for the last 5 years, is the title of the 6th Vomitory opus from  2007.
Beneath the bloody album cover – designed exterior, 'Terrorize Brutalize Sodomize' is important to observe as it displays a deeper and more cluttered tone than what Vomitory have corrected this year.
I can now say that Vomitory have taken some drastic measures to finally arrive at this victoriously named newie, 'Opus Mortis VIII' and subsequently blow away all past efforts of theirs.
Perhaps the late Chuck Schuldiner's band Death, from Florida U.S.A., would have sounded like the new Vomitory had the band and it's leader survived.
Death, with their 1987 debut album on Combat Records defined the sound of the whole sub-genre of Death Metal with 'Scream Bloody Gore'. We still have Hellwitch, though, who are Death Metal's forebearers also.
It is maybe unfortunate that the band Death should've and could've remained as the biggest influence on up-and-coming bands but did not. At least not in America, anyway, where musicians are easily distracted by all the commotion caused by the mighty metropolises that have been built in major cities, and thus are infiltrated by other styles like Hardcore Punk, Emo/Screamo, Alternative, Grunge, etc.
Keeping Death Metal pure and true to it's beginnings seems to get harder and harder to do as the years wear on. Vomitory have been making albums for nigh on 15 years and their aim is true and have answered the call to take Death Metal where it should be.
Let's go back to 'Carnage Euphoria', the 7th Vomitory studio LP from 2009, after talking about Vomitory's 6th studio LP- 'T.B.S.', in previous paragraphs.
'Carnage Euphoria' became the first album by Vomitory that I completely liked.
Vomitory laid down the gauntlet and drank from the gory goblet of gore; awakening from the band members' collective comas, or something, to deliver something special finally.
Technicality and speed were giving way to Vomitory's realization that they had to make something that would at least be a little bit pleasant for the listener. My most biting criticism about Vomitory, and I have wrestled with their albums throughout the years, is aimed at how depressingly pessimistic the lead singer Ronnie 'Ripper' Olson sounded on the Debut LP, 1996's 'Raped In Their Own Blood'. As of 1999's 'Redemption' LP, Jussi Linna took over the lead vocal spot sounding one-dimensional and quite unspectacular and not a good fit for Vomitory.
Then came the third Vomitory disc, 'Revelation Nausea' in 2001 with bassist Erik Rundqvist commanding the mike; the turning point for Vomitory. 2002's 'Blood Rapture', the band's fourth LP sounded rushed yet along with the 5th Vomitory studio LP, '2004's 'Primal Massacre' the band were making progress in honing their sound.
April 26th, 2011 was the day Metal Blade Records released Vomitory's 'Opus Mortis VIII' from this band that formed in 1989.
As heavy as the Death Metal genre-busting Hellwitch's 2011 LP 'Omnipotent Convocation' yet just a bit less brutal is this new Vomitory album. Vomitory have gotten it right this time around, for sure. Many of Sweden's Death Metal merchants like Vomitory have long been known to emulate the American Death Metal sound sans the Hardcore Punk, which I alluded to earlier.
Straight from the lead-off track, 'Regorge In The Morgue', you hear the scream of a guitar feeding back then all hell breaks loose. Track 3 – 'They Will Burn' and Track 4, 'The Dead Awaken' along with 'Combat Psychosis' – a song that best addresses the album's quizzical artwork depicting soldiers in a snowstorm, are the best songs from 'Opus Mortis VIII'.
Another highpoint of this album is the track, 'Hate In A Time Of War' which should be pointed out as lyrically it contains the calling card for Vomitory: hatred.
Hatred has become the major theme for Vomitory. The first three albums by Vomitory can be accused of having too much hate and not enough good music. Vomitory have balanced out all their best attributes for 'Opus Mortis VIII'.
Vomitory is as heavy as a ton of bricks and 1000 times as deadly as a cobra snake.
If you only purchase a few Death Metal albums this year, Vomitory's 'Opus Mortis VIII' should be on your shortlist.
– Rich Castle
Death Scream – Heavy Metal Reviews – Heavy Metal Interviews – Heavy Metal News