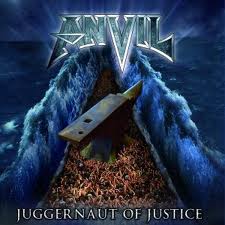 Anvil – 'Juggernaut Of Justice' – 2011 LP, The End
The title track 'Juggernaut Of Justice' is an amazingly simple tune that you will be humming while you find yourself stuck in traffic or in a long elevator ride.
Bang thy head.
Because Anvil is back.
Anvil's penchant for seamlessly melding Hard Rock and Heavy Metal is an affirmation of their birthing which came at the end of the 1970s. When compared to the last Anvil album 'This Is Thirteen' from 2007, it is readily apparent that Anvil wanted to drop the crystal balls and sorcery this time around. 'This Is Thirteen' has a title track that tries to be catchy but somehow doesn't work that way.
Anvil have learned the art of transformation: Take a look at the album covers of the last two Anvil ventures.
On 'This Is Thirteen' the anvil looks like a magic hat. On 'Juggernaut Of Justice' the anvil looks like a judge's gavel.
In the past the anvil has been drawn, depending on which album it is, to look like an airplane, a discus, a barbell, etc.
Having outdistanced other mono-syllabically monickered bands such as Raven, fellow Canadians- Razor, W.A.S.P. and Riot, 2011 is turning out, hot on the heels of the documentary film that showed blow by blow what the sacrifice to be eternal idols of Heavy Metal is all about, to be Anvil's most vibrant year since the days of the band's first line-up that lasted six albums and gave us: 'Hard 'N' Heavy'- 1981, 'Metal On Metal'- 1982, 'Forged In Fire'- 1983, 'Backwaxed'- 1985, 'Strength Of Steel'- 1987 and 1988's 'Pound For Pound'.
Anvil are on their sixth line-up but don't think that they are beginning to resemble what happened with other dinosaurs of Rock like Uriah Heep, Pentagram (Virginia, U.S.A.), Deep Purple, Kiss, and Black Sabbath. No. These bands had a cast of players a page long each and had drastic stylistic changes, to boot.
The fifth line-up of Anvil, however, gave out a steady stream of releases, to prop the band up publicly where people would know they were still going strong, in 'Plenty Of Power'- 2001, 'Still Going Strong'- 2002, and 'Back To Basics' from 2004: The 10th, 11th and 12th studio albums, respectively.
The sixth line-up of Anvil, this current one for 2011, features the 1978 founding members- lead guitarist/lead vocalist Steve 'Lips' Kudlow and drummer Robb 'Geza' Reiner. Bassist Glenn Gyorify, alias Glenn Five, or G5 for short, has been with the band since 1996.
I would think that all of you Death Scream readers know this fact about Anvil: Leader of the band 'Lips' is most notable for playing his guitar with a dildo!
What should interest Thrash/Speed Metal and in general Extreme Metal fans is evident in 'All Hell Breaks Loose', which is my pick for second best song on this 'Juggernaut' LP, as it sounds suspiciously like the suspicious band Piledriver. Maybe there is some kind of connection between Anvil and Piledriver that I don't know about.
Actually 'All Hell Breaks Loose', because of the vocals being more traditional, could've been composed for Accept's blast from the past 'Breaker' LP.
Let's look at the rest of the album:
'New Orleans Voo Doo' is almost 4 1/2 minutes of lots of flaming hot guitar soloing going almost non-stop throughout the song. A typical Anvil freak-out; don't know what else to call it.
'On Fire'- The Anvil phrase 'Bang thy head' is just right for thrashing songs like 'On Fire'; it is hard rockin' metallic thrash and no one does it better than this Canadians.
'Fuckeneh'- Only Anvil can get away with a title like this. Kooky percussion, that you can make out under the headphones slightly, makes for more Canadian originality like this anthem for positive Metalheads. Ya gotta think on the brightside. Enjoy your life as it's the only one you got. This is the great frame of mind kind of thinking I get from listening to 'Fuckeneh'.
'The Ride'- Warning. Crank this mutha up! 'The Ride' proves that Anvil wasn't meant for deep thinking. Nope. Anvil was meant for kickin' a*s.
'Not Afraid'- Now this song is a bit different. It sounds like something Overkill could have come up with. But that is not why I am not too crazy about this number. It isn't well written and sounds kind of throwaway.
'Conspiracy'- I definitely don't like this one either. This is where Anvil have veered downhill in the past by being too crass, too coy and too convoluted. And that is what has turned me off to whole albums by these boys after their untouchable 1981-1987 period.
'Running'- So simple that it is wonderful is how I will describe 'Running'. With a twinge of Type O Negative goth madness, as Anvil do dress in black as the only visual link, though, to the late Peter Steele's Brooklyn New York band; Anvil have created a real beaut' here. Good straight forward metal. I like it so much that I will declare this song to be the best song on the 'J.O.J.' album.
'Paranormal'- is a spooky 30 minute mood setting piece. This track shouldn't be here as it doesn't set the mood correctly for what follows anyway.
'Swing Thing'- Beginning like Rush's Neil Peart's swing jazz-obsessed drumming on Rush's 1993 almost swan-song 'Counterparts' LP's lead off track, 'Animate'. 'Swing Thing' goes on and becomes actually frightfully like the god-awful Neil Peart-infused 'The Hockey Theme' sans Lips' electric guitar soloing. 'Swing Thing' is a turn off.
Why does Anvil got to be so goofy sometimes? I don't appreciate this aspect of the band at all.
– Rich Castle
Death Scream – Heavy Metal Reviews – Heavy Metal Interviews – Heavy Metal News