Witchtrap – 'No Anesthesia' – 2006 LP (Dirty Sound Records)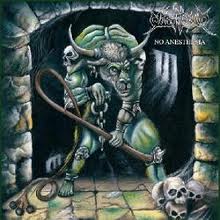 If you are looking for authentic thrash, speed, death, black metal bands then Witchtrap should catch your fancy.
Those who think Exodus have no equals as regards their 'Bonded By Blood' debut LP opus have never heard Colombia, South America's Witchtrap and their 2006 LP, 'No Anesthesia'. 2002 saw the release of Witchtrap's 'Sorceress Bitch' and this album is the follow up to it.
'Heavy Drinker' is the 'Metal Militia' that Hetfield and company over at Metallica HQs couldn't muster in 1983.
Witchtrap go a long way to prove how overrated that debut Metalllica disc was and still is.
They also have a more believable style than even Sepultura circa 'Morbid Visions' when it comes to believability in the lead vocal approach.
Max Cavalera's vocals maybe tries just a little too hard; I only have come to this conclusion after experiencing Witchtrap's music, which I have gotten turned on to just most recently.
'Heavy Drinker' is the runaway smash hit thrash anthem on 'No Anesthesia' that you will have in your head for days on end.
It is the most catchiest thrash song in eons; no exaggeration needed.
Here's a bit of the lyrics:
Your local hepatologist already loves these guys.
Satan's blood is rum and beer
Whiskey and wine the spit of Death
Into the cauldron the brew is ready
To make you lose your mind.
Chances are if you've been thrashing for a long time like me then you have already lost your mind.
Honestly, there are very few bands that can match what Witchtrap accomplish on their albums.
Only Venom, Bathory, Dark Angel, Onslaught, and Whiplash have gotten such a hellish atmosphere on their albums.
'Riot Of The Dead' makes you think of Judas Priest's 'Judas Is Rising' from their 2005 'Angel of Retribution' disc.
The head on your shoulders nods along in the affirmative and just like J.P., Witchtrap show complete Metal mastery.
'Disturbing The Dead' doesn't equal 'Heavy Drinker' but like all Witchtrap songs they far outdistance the competition.
– Rich Castle
Death Scream – Heavy Metal Reviews – Heavy Metal Interviews – Heavy Metal News