Ostrogoth – 'Ecstasy & Danger'- 1984 LP – (Mausolem Records)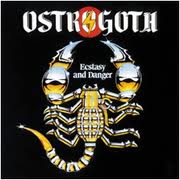 Ostrogoth pulled one of the greatest hoaxes in heavy metal history with their 'Ecstasy & Danger' album, ripping off the Scorpions.
A crime of high treason for most bands that would dare to have an album cover like the one on 'E & D'; but not Ostrogoth.
You see Ostrogoth started playing Metal in 1976 and are one of the unrecognized by most, pioneers of True Metal.
Gobblideegook, I mean Ostrogoth even have a crap band name.
Ostrogoth do a song on this LP called 'Stormbringer' and it's not a Deep Purple cover version, either.
To complicate matters I will tell you that Ostrogoth are one of the most original bands, musically and vocally, in the history of distorted music
They are a household name in Belgium and released a 20th anniversary concert LP in 2003 to commemorate this event.
The title track, 'Ecstasy' is a heavy metal classic that everybody needs to hear. Balls out Metal with just the right attitude and a very decent recording, indeed.
'Do It Right' and 'Bitch Again' are more good tracks to found on this platter.
When you listen to 'Lords Of Thunder', a brilliant composition, that is the epitome of what Heavy Metal should be, you'll notice riffs that may be familiar to you. Yet Ostrogoth are able to change them up and make them entirely their own.
Seek out this album if you call yourself a Metalhead.
– Rich Castle
Death Scream – Heavy Metal Reviews – Heavy Metal Interviews – Heavy Metal News