Cross – "Metal From Above"- 1987 LP (Steel Legacy Records)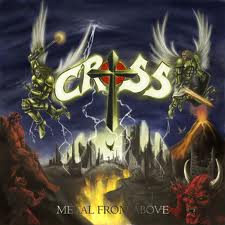 In our youth so many of us are rebellious, anxious souls lacking respect, experience and wisdom.
Reading the Word of God is not a fun thing to do.
With that introduction I introduce you to the White Metal, Christian Heavy Metal that Cross plays on their 1987 album, "Metal From Above".
At this same period in time there were albums put out like Satan's Host's "Metal From Hell" and Onslaught's "Power From Hell".
Cross, from the unlikely place of Albuquerque, New Mexico, decided to lay down some tracks with Jesus Christ, their Lord and Saviour, in mind.
Let's examine the White Metal genre a bit first:
There are Christian Heavy Metal bands like Cross such as Stryper, Petra, Holy Soldier, Tourniquet, Believer, Leviticus, Saint and Seventh Angel. Paradoxically there are Christian Death Metal bands such as Paramaecium and Mortification. Then there are 'Crossover' Christian bands like Underoath, As I Lay Dying and The Devil Wears Prada
Let's look at this Cross album a little bit closer:
This debut album turned out to be the only album Cross put out. Steel Legacy Records flies the banner for 'True Metal'.
True Metal is a term for bands that play Heavy Metal and Power Metal and Cross are more of the former than the latter.
There are eight tracks on "Metal From Above". The production is suspect with the sound quality being muddy with not enough hi-fidelity and punch. The mix is fine meaning that the vocals are not buried by the guitar or vice versa.
"Deliverance" sports a very commanding vocal performance and comes off as the best track by Cross. It is the most popular song by them also.
"Final Journey" is a searching, deep probing tune with likable arpeggiated mellow guitar playing. The voice of James Sanchez is very engaging and quite original and distinctive. I cannot think of anybody offhand that he sounds like.
The 'live in concert' tracks "Exodus, "Black Death" and "Prisoners Of War" are all competently played, straightforward heavy numbers but are unlistenable due to the sound quality which is unbearably bad.
The one distinction that makes Cross noteworthy is the album cover artwork. It is amazing and is one of the best band logo and album cover artworks ever done in the over four decades history of heavy metal.
The winged knights flanking the band's logo with a big cross in the middle of it hovering over a holy city straight out of Revelations, the last chapter of the King James Version of the New Testament in the Holy Bible, is one heck of a sight to behold.
Cross must have sold a lot of T-shirts.
– Rich Castle
Death Scream – Heavy Metal Reviews – Heavy Metal Interviews – Heavy Metal News