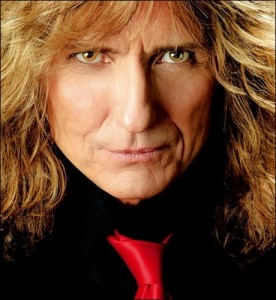 Rob Cavuoto of Guitar International recently conducted an interview with WHITESNAKE/ex-DEEP PURPLE frontman David Coverdale. A couple of excerpts from the chat follow below.
Guitar International: You don't see yourself working with [guitarist] John Sykes [again] anytime soon?
David Coverdale: I don't see why. It's like saying, "Would you go back to a former wife?" Are you kidding me? Do you realize how happy I am? I have blue birds flying out of every orifice! I walk around and, oops, there's another blue feather on the floor. [Laughing]. It would be interesting to play a charity thing, in front a lot of people, but that's about it.
Guitar International: With so many '70s bands being nostalgia acts, why do you continue to make CDs?
David Coverdale: If I didn't put out new CDs, I'd be on "American Idol". I would rather go home and be a house husband and take up knitting. That's why I work with such inspirational musicians. Another incredible thing is when we put the word out that we're looking for new "snakes," people line up. The guitarist can't wait to do "Still Of The Night", the big penis song for guitar. All of that delights me!
Guitar International: How do multi-platinum artist like yourself measure success in 2011 with no rock radio, no video channels, and file sharing?
David Coverdale: I don't go there; artistically, I feel the CD is a success already. Our site gets 150 to 200 thousand hits a day. The response from critics and fans has been overwhelmingly positive. It's up to the record company to make sure it's available. I was describing this similar thing to someone the other day. Nowadays you can make a record for a tenth of the price, so I only have to sell a tenth of those records and WHITESNAKE sells records! That's a fact. Earlier this year, I had a nice accounts meeting, and found out that not only is WHITESNAKE flourishing, but it is also getting more and more successful over the past five years.
Guitar International: What do you want WHITESNAKE to be remembered for?
David Coverdale: That's nothing to do with me, that's what other people want to do. That's something that doesn't occur to me. At first, I got into this for the chicks. It was a real lustful thing. As a child I would always write poetry as I wanted to express myself. I was also very weary of what my friends might think. I probably would have got my ass kicked. So I kept a lot of those things to myself. Once I learned an instrument, the poems became lyrics. Once I heard the emotional reservoir of the blues, that was it for me. That music just fucks me up! I love that nitty-gritty stuff. I like it when it's open for business. So if I had to be remembered for something hopefully it would be for being a good dad and husband.
Guitar International: Way back, there were rumors of you playing with Eddie Van Halen. Can you elaborate what happened and how they got out of hand?
David Coverdale: Someone on the inside told me and I'm not sure how true it is, that the VAN HALEN camp floated the idea on the Internet. I was so angry about that, as I was semi-retired at the time. I like being my own boss! I haven't spoken to Eddie since he came up to my room in London when I was working with Pagey [Jimmy Page]. He knocked at the hotel door and asked if Jimmy was here. [Laughing] He got on his knees in front of Jimmy Page, asking him how he played this thing and how he played that thing. It was very sweet. He also went straight to my minibar at 10:00 a.m., too!
Read the entire interview from Guitar International.
Via Blabbermouth
Death Scream – Heavy Metal Reviews – Heavy Metal Interviews – Heavy Metal News