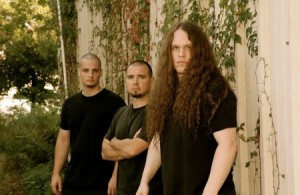 Quality video footage of HATE ETERNAL' performance at this year's edition of the Neurotic Deathfest, which was held April 29-30, 2011 at 013 and MIDI theatre in Tilburg, Holland, can be viewed below (courtesy of "letthedeathmetalflow").
HATE ETERNAL's new album, "Phoenix Amongst The Ashes", will be released on May 10 via Metal Blade Records. The CD was recorded HATE ETERNAL mainman Erik Rutan's Mana Recording Studios in St. Petersburg, Florida and was mastered by Alan Douches at West West Side Music (SEPULTURA, SUFFOCATION, UNEARTH) in New Windsor, New York.
"Phoenix Amongst The Ashes" track listing:
01. Rebirth
02. The Eternal Ruler
03. Thorns Of Acacia
04. Haunting Abound
05. The Art Of Redemption
06. Phoenix Amongst The Ashes
07. Deathveil
08. Hatesworn
09. Lake Ablaze
10. The Fire Of Resurrection
J.J. Hrubovcak has been added as the band's bassist, alongside the devastating combo of Erik Rutan on guitar and Jade Simonetto on drums.
The "Phoenix Amongst The Ashes" cover artwork was once again handled by Paul Romano (MASTODON, CHIODOS, THE ACACIA STRAIN, GODFLESH, EARTH CRISIS) who previously worked on HATE ETERNAL's "I, Monarch", "The Perilous Fight" (DVD), and "Fury & Flames" releases.
Via Blabbermouth
Death Scream – Heavy Metal Reviews – Heavy Metal Interviews – Heavy Metal News