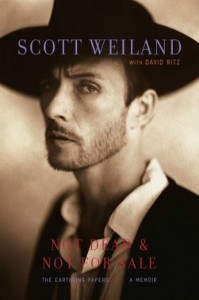 The first webisode promoting STONE TEMPLE PILOTS/ex-VELVET REVOLVER frontman Scott Weiland's long-awaited autobiography, "Not Dead & Not For Sale", can be viewed below.
"Not Dead & Not For Sale" will be released on May 17 via the Simon & Schuster imprint Scribner. Weiland, 43, collaborated on the project with David Ritz, the "Sexual Healing" lyricist who has co-written autobiographies for the likes of Marvin Gaye, Aretha Franklin, Ray Charles and more recently Don Rickles.
Weiland has confirmed the following signing engagements for "Not Dead & Not For Sale":
Tuesday, May 17 at 7:00 p.m.
Barnes & Noble
33 East 17th Street
New York, NY
Tuesday, May 24 at 7:00 p.m.
Book Soup
8818 Sunset Blvd.
W. Hollywood, CA
In other news, Weiland's producer, business partner and touring guitarist Doug Grean revealed in a Facebook posting that Weiland has plans to issue a new solo album later this year featuring eight previously unreleased tracks and five or six already released songs. Grean added, "It's to go along with the book."
In a November 2007 interview with Reuters, Weiland said that he was feeling overwhelmed by the prospect of chronicling his eventful life to date.
"It's a weird thing," he said. "You make a lot of records, write a lot of songs, but all of a sudden you go into a whole different vein, and it's a little bit scary to dive into."
In the early 1990s, STONE TEMPLE PILOTS — not U2, not NIRVANA, not PEARL JAM — was the hottest band in the world. STP toppled such mega-bands as AEROSMITH and GUNS N' ROSES on MTV and the Billboard charts. Weiland became an iconic frontman in the tradition of Mick Jagger, David Bowie, and Robert Plant.
Then, when STP imploded, it was Weiland who emerged as the emblem of rock star excess, with his well-publicized drug busts and trips to rehab. Weiland has since made a series of stunning comebacks, fronting the supergroup VELVET REVOLVER, releasing solo work, and, most recently, reuniting with STONE TEMPLE PILOTS. He still struggles with the bottle but he has prevailed as a loving, dedicated father, as well as a business-savvy artist whose well of creativity is far from empty.
These earthling papers explore Weiland's early years as an altar boy right along with his first experiences with sex and drugs. Weiland discusses his complex relationships with his parents, stepfather, siblings, and the love of his life, Mary Forsberg Weiland. Readers learn the fascinating stories behind his most well-known songs and what it was like to be there at the beginning of the grunge phenomenon, as Rolling Stone proclaimed on its cover "the year punk broke." "Not Dead & Not for Sale" is a hard rock memoir to be reckoned with — a passionate, insightful, and at times humorous book that reads with extraordinary narrative force.
Via Blabbermouth
Death Scream – Heavy Metal Reviews – Heavy Metal Interviews – Heavy Metal News