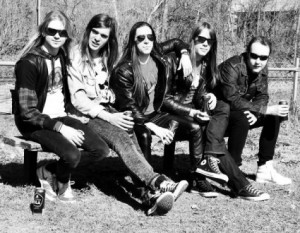 Swedish metallers STEELWING have issued the following update:
"Sometimes what you seek is closer than you think.
"As we have already hinted, the search for the new STEELWING bassist is over. We'd like to thank all the groovy bass players from all over Europe who applied for the job, it's been an honor to get to hear so many talented musicians. Eventually, though, we realized that we already knew someone who felt and looked like one of us, knew all our songs by heart and — to our surprise — could also play the bass!
"Meet Nic Savage, blond bass thrasher and devoted U.S. metal disciple. Armed with a scarlet Kramer four-string, he will henceforth handle the bass duties of STEELWING."
Left to right in photo below: Nic Savage, Alex Vega, Riley, Oskar, Robby Rockbag
Bassist Skürk has left STEELWING in February "due to life priorities that do not include any more extensive touring."
STEELWING's debut album, "Lord Of The Wasteland", was released in Europe on April 30, 2010 via Noise Art Records, a division of Rock The Nation. The CD was recorded at Deep Blue Studios with producer Nicko DiMarino. The album artwork was created by Ed Repka.
STEELWING was awarded a record deal as part of a contest launched by the Austrian management and booking company Rock The Nation. This unique competition was presented and promoted by all leading European metal magazines, including the German, Italian, Spanish and Greek editions of Metal Hammer; Terrorizer (U.K.); Metallian (France); Scream (Norway); Rock Tribune (Belgium); Spark (Czech Republic); and the Dutch webzine LordsOfMetal.nl.
Via Blabbermouth
Death Scream – Heavy Metal Reviews – Heavy Metal Interviews – Heavy Metal News