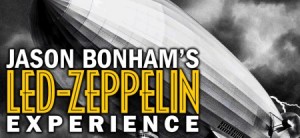 JASON BONHAM'S LED ZEPPELIN EXPERIENCE — a unique trifecta of an amazing rock concert featuring the unforgettable blues-rock of LED ZEPPELIN, an over-the-top video and light show as well as the personal history that Jason Bonham shares in commemoration of his father with the legendary rock 'n' roll band — has added new songs to the setlist for its second tour, including "Achilles' Last Stand", "The Rain Song" and "In the Light", the latter of which LED ZEPPELIN never performed live.
"The song choices will always be a key part of this," Bonham tells Billboard.com, "because I listen to what the fans say. But I also want to keep it as true as I can. We'll never do a song we don't think we can do well, so if for some reason there's certain songs we don't do in the show we probably haven't tried it yet, or we have tried it and it wasn't up to standard. We'll only do the best ones we can so they sound the best."
The new JASON BONHAM'S LED ZEPPELIN EXPERIENCE tour kicks off tonight (Wednesday, May 4) in Wallingford, Connecticut and wraps up May 28 in Las Vegas, Nevada. The show features Bonham on drums, Tony Catania on guitar and theremin, Stephen Leblanc on keyboards/pedal-steel guitars, Michael Devin on bass and James Dylan on lead vocals.
"The stories that people have shared with me over the last 12 months and onward since the first round inspired me," Jason tells Billboard.com. "When people say, 'Oh, can you try this one in the show next time? Can you do this?'… I spoke to my mom, and she said, 'Listen, you're representing the family here, and I appreciate you doing it.' She came out to see the show and said, 'You know, I was a little skeptical at first, but the show is so wonderfully put together and it's very special.' She said, 'Please continue this for me as long as you feel comfortable doing it.' "
Read more from Billboard.com.
Via Blabbermouth
Death Scream – Heavy Metal Reviews – Heavy Metal Interviews – Heavy Metal News