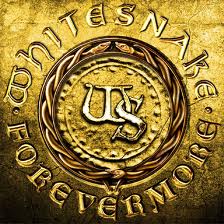 Whitesnake's brand new album, "Forevermore" (Frontiers Records) made its worldwide debut, bowing in the Top 50 of several countries' official charts. In the United States, "Forevermore" came in at #49 on The Billboard 200 chart and landed even higher in a number of European countries.
"Forevermore" first-week chart positions:
Sweden: #6
Finland: #11
Czech Republic: #15
Germany: #16
Switzerland: #17
Austria: #27
Italy: #41
Netherlands #42
Poland: #42
USA: #49
WHITESNAKE's new album, "Forevermore", sold around 12,000 copies in the United States in its first week of release.
The effort, which came out in North America on March 29 via Frontiers Records, was made available in four different configurations.
"Forevermore" is available as:
* a single CD
* a CD+DVD combo: the DVD features the "Love Will Set You Free" video, the making of "Love Will Set You Free" video, as well as a behind-the-scenes documentary on the recording of "Forevermore"; the CD includes three bonus tracks: "Love Will Set You Free" (alternate mix), "My Evil Ways" (alternate mix with drum solo) and "Forevermore" (acoustic version)
* a double-LP vinyl edition
* a special edition box set which includes the CD, DVD, LPs, as well as a cover litho, a poster and a logo sticker.
"Forevermore" finds founder/singer/songwriter David Coverdale and company returning to their no-holds-barred, bluesiest, sexiest rock n' roll roots. The CD was recorded, produced and mixed by Los Bros Brutalos (Coverdale, guitarist Doug Aldrich and Michael McIntyre).
"Forevermore" track listing:
01. Steal Your Heart Away
02. All Out Of Luck
03. Love Will Set You Free
04. Easier Said Than Done
05. Tell Me How
06. I Need You (Shine A Light)
07. One Of These Days
08. Love And Treat Me Right
09. Dogs In The Street
10. Fare Thee Well
11. Whipping Boy Blues
12. My Evil Ways
13. Forevermore
Via Blabbermouth
Death Scream – Heavy Metal Reviews – Heavy Metal Interviews – Heavy Metal News