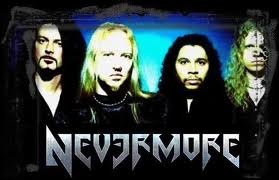 Seattle metallers NEVERMORE have canceled all of their previously announced North American tour dates. An official statement from NEVERMORE will be issued shortly.
***IMPORTANT***: The tour will still go ahead, with SYMPHONY X, POWERGLOVE and BLACKGUARD playing all dates.
NEVERMORE tapped Dagna Barrera to play bass on the band's recent "Power Of Metal" European tour with SYMPHONY X, PSYCHOTIC WALTZ, MERCENARY and THAUROROD after the group's regular bassist, Jim Sheppard, underwent surgery on February 16 to remove a benign brain tumor.
Dagna previously played bass in NEVERMORE singer Warrel Dane's solo project and is also a member of the Seattle-based progressive rock band ONE UNDONE.
When asked how Jim is doing following the operation, Jeff told Austria's Stormbringer.at webzine, "I was talking with him right after he got the surgery. A lot of people don't know, he actually had a brain tumor that was removed from his… you know, head. [laughs] The surgery was very successful and he came out of it with flying colors. So yeah, he's gonna be returning to the band very soon. He just needs time to recover and relax for the time being."
Regarding Dagna's addition to NEVERMORE's touring lineup, Loomis said, "She's really amazing. She's picked up the songs very, very fast. And yeah, I think that was part of it — that she was also playing in Warrel's band, that she decided she would help us out. And we're very fortunate to have her, because she is a friend of ours from Seattle and a great bass player."
On the topic of NEVERMORE's current second guitarist, Hungarian musician Attila Voros, Loomis said, "I think Attila is more of a permanent member of the band now, really, because he's just a perfect fit for the band; he plays all the songs very, very well, so we're very fortunate to have him as well."
He added, "When we lost Chris Broderick to MEGADETH, Attila had found out the news about that, so he started sending videos — these YouTube videos — to us that really showcased his overall playability of the instrument. And I mean, he knew every little nuance of all the NEVERMORE songs, so obviously he spent a lot of time going over all of the stuff. So we're very fortunate to have him, and I think the band has never sounded better; it's really sounding very powerful right now."
Sheppard in 2006 missed a number of NEVERMORE shows after undergoing a minor procedure for Crohn's Disease, a condition he's managed for nearly 20 years. Filling in for Sheppard was longtime friend James MacDonough (ex-MEGADETH, ICED EARTH).
"The Obsidian Conspiracy", the new album from NEVERMORE, sold around 4,000 copies in the United States in its first week of release to debut at position No. 134 on The Billboard 200 chart. The CD landed at position No. 1 on the Top New Artist Albums (Heatseekers) chart, which lists the best-selling albums by new and developing artists, defined as those who have never appeared in the Top 100 of The Billboard 200.
Via Blabbermouth
Death Scream – Heavy Metal Reviews – Heavy Metal Interviews – Heavy Metal News