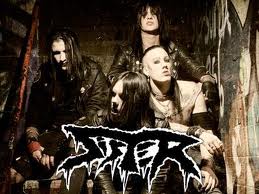 Swedish sleaze- and punk-influenced metal band SISTER has revealed the artwork and track listing for its Metal Blade Records debut, "Hated", due out in Europe on June 6.
The band talks about the first single and title track, "Hated": "It's a song about when people close to you fuck things over for you, making your life miserable till the degree that you can't take it anymore. You get so pissed and frustrated that you start to hate them and want them to hate you too. You want them to despise you and you use that anger as fuel to pull yourself back up. Feed you till you're up on the top again. We've also had a lot of people that have worked against us over the years and this track and album title is kind of a statement as well. A big fuck you to those people. So it's both the title track and the anthem of the album. It was a song that took form real quickly and pretty much put together in one evening in the rehearsal. It just came natural and it felt right to have a heavier, low tempo song after some time of writing a lot of fast maybe more punk feeling songs. Though, this one still has the punk edge like all our work of course."
"Hated" track listing:
01. Radioactive Misery
02. Body Blow
03. Bullshit & Backstabbing
04. Hated
05. Motherfuckers (Like You)
06. Werewolves on Blackstreet
07. Spit On Me
08. The Unlucky Minority
09. Would You Love A Creature
10. Too Bad For You
11. Drag Me to the Grave
The cover art for "Hated" was created by Kim Oktavia, who is an artist/tattoo artist in Stockholm, Sweden, and photographer Axel Engström, also from Stockholm. The band comments; "The cover art for the album are made of us and our close friends Kim Oktavia and Axel Engström. Kim is the band's tattoo artist pretty much as the whole band gets their tattoos at her studio. She worked with the pictures that we took with Axel and really made them come to life. We did the layout with Axel afterwards and we are stoked over the result. The final cover and booklet blows our minds every time we see it. We have taken photos with Axel a lot times and it felt right to work with people that really understand what we want and are on the same page all the time. So it couldn't have been better and when everybody sees the result they will see what we mean."
SISTER, which hails from the Stockholm/Jönkoping area of Sweden, formed in early 2006, working hard to build up a name as a strong act both live and in the studio.
SISTER consists of four members — Jamie on vocals, Lestat on guitars and backing vocals, Rikki on bass and backing vocals, and Cari on drums and backing vocals — who combine the sounds of punk, glam, rock, and metal with an end result sounding something like the bastard child of GG ALLIN and GUNS N' ROSES.
SISTER is:
Jamie – vocals
Lestat – guitar & backing vocals
Rikki – bass & backing vocals
Cari – drums & backing vocals
For more information, visit www.sisteronline.net.
Via Blabbermouth
Death Scream – Heavy Metal Reviews – Heavy Metal Interviews – Heavy Metal News