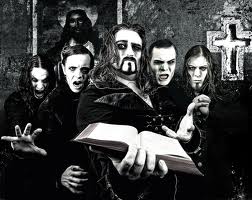 Multinational heavy metallers POWERWOLF have finished recording their as-yet-untitled fourth album. This time the pack invaded none less than five studios and two churches to get their latest metal hymns in shape!
In total, more than 70 people participated in the genesis of the follow-up to 2009's "Bible Of The Beast". Guitarist Matthew Greywolf comments: "Halelujah, it's done! After countless days of struggle, we have finally finished the work on the upcoming album. Still hard to believe the recording-crusade has come to an end — but holding the result in hands we feel more than proud and satisfied. We can promise you a goddamn great piece of wolfish metal insanity!"
The new POWERWOLF CD will be released in July — right in time for the band's live celebrations at Germany's Summer Breeze and Slovenia's Metalcamp festivals.
POWERWOLF last year parted ways with drummer Stefane Funebre and replaced him with Tom Diener.
"Bible Of The Beast", the latest album from POWERWOLF, entered the German Media Control chart at position No. 76. The CD was released on April 27, 2009 in Europe via Metal Blade Records. Mixed by legendary producer Fredrik Nordström (IN FLAMES, HAMMERFALL, ARCH ENEMY) the opus was said to be POWERWOLF's heaviest album to date.
Via Blabbermouth
Death Scream – Heavy Metal Reviews – Heavy Metal Interviews – Heavy Metal News