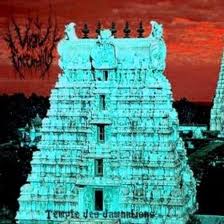 Viral Encephalitis – 'Temple des Damnations' 2011 LP
The cheerily monickered Viral Encephalitis are the latest entry for Grindcore, Grindgore or just plain Death Metal.
Canada, where this band with one album under their rancid belts come from, have a 2010 album entitled 'Carcass De Guerre'. Canada has been host to some of the best outfits in the business. Gorguts, Gorelust – the 'Reign Of Lunacy' LP opus being outstanding,
Cryptopsy and Kataklysm take the top tier of Canadian Death.
Quenchy, munchy deathgore with atmosphere, Viral Encephalitis make you feel queasy and a bit uneasy. And that is one of the objectives of bodily fluid- obsessed Death Metal.
Carcass, Cadaver, Blood, Miasma, Disharmonic Orchestra, Loudblast, Obituary, Death, Impetigo, Vital Remains are masters of the craft and are the acts to be emulated.
Viral Encephalitis' copy of Mortician's 'Zombie Apocalypse' is spot on and can be found on their debut album-length demo, 'Carrariass' from 2007.
The unmistakable intro of Mortician's Death Metal classic is there in all it's glory. It may bring a sick smile to your face to know that here is a band, Viral Encephalitis, as twisted and as sick as the supreme Death Metal embalming force — the legendary Mortician.
This 2011 EP,'Temple des Damnations', is an independent effort as was the debut LP.
In 2008, after releasing the previous year's demo, Viral Encephalitis released their first EP, 'Carnage Extreme', also put out independently.
A striking, surreal, powder blue colored Mayan sacrificial stone temple adorns 'Temple des Damnations' EP cover.
The backdrop of this monument on the EP cover features a blood red sky for a backdrop and the band's logo wisely redrawn since the 2007 demo release, looking like a horde of angry insects.
'Temple des Damnations' succeeds in having one of the most effective EP covers I have ever seen in Death Metal. You could even be forgiven for thinking the band hails from South America, such is the EP cover's flavor as well as the fact that the Mayan ruins can be found in Latin American territory.
More good news is that 'Temple des Damnations' is more like a Mini-LP as it's running time totals 26 minutes and 19 seconds. A 1 minute and 11 seconds intro gives way to 5 songs on this supposed EP.
The 5th track, 'Evil Promise', is the only one with English lyrics and along with 'Death Futur Scum World' as track 4 comes off as the best on offer.
Don't think that you already know what to expect from Viral
Encephalitis as they have a spark of originality and a ton of atmosphere.
It is early days for this band who come at ya with an attitude that is usually reserved for only the darkest and best of Death Metal.
The real thing that the band is named after, namely viral encephalitis, ultimately causes confusion, coma and death.
Early days for this promising young act.
Death heads are encouraged to lend this band the support they'll need. Expect a record label signing real soon. Viral Encephalitis got it!
– Rich Castle
Death Scream – Heavy Metal Reviews – Heavy Metal Interviews – Heavy Metal News