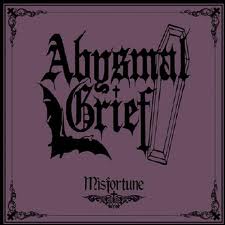 Abysmal Grief – 'Misfortune' 2009 LP, Black Widow Records
Just this month, April 2011, I received this stylish fold-out digi-pack
CD- cat # 125-2, from the good guys over at Black Widow Records of Italy.
'Misfortune' came out November 2nd, 2009. Featuring 6 brand new songs,
'Misfortune' serves as the second full-length studio disc from this Doom/
Dark/Black Heavy Metal band.
Where the band's name is written on the album cover which has a lavender
purple on black color scheme, a coffin, a bat, and a black cross is incorporated into the logo.
This says a whole lot about what music lurks within.
Under Italy, somewhere, are the Catacombs. Immense underground labyrinths.
They are the substance of many a spooky myth, legend and true story.
But this is not a treatise on the Catacombs, yet I sure do feel like this
Italian band fits right in with that creepy topic, which you may want to
check into; it is quite interesting.
In some transcendental way Abysmal Grief brings the aforementioned topic
to mind.
Abysmal Grief is more aptly explained by saying that the band is Horror
Metal meets Doom Metal with a pitch black, necro atmosphere.
'Misfortune' brings into fruition a meeting of the morbid, where one can
hear Mortuary Drape – who hail from Italy, Bulldozer – Italy also and the
rancid cadaver of demo era Hellhammer circa 1983's 'Triumph Of Death'.
I was listening coincidentally to Hellhammer's CD 'Triumph Of Death',
that has 17 tracks including the 'Death Fiend' stuff, on my stereo just
a few hours before I popped this 'Misfortune' album on.
Abysmal Grief did a split with Denial Of God, from Denmark, who did the
'Ghouls of Dog' recording years back and are a corpse painted bunch.
The Denial Of God/Abysmal Grief single came out in September of 2009.
Denial of God did one song: 'Resurrection Of The Damned'- time 6:50.
And Abysmal Grief did one song: Brides of the Goat – time 6:35. 'Brides
of the Goat', appeared as track 4 of 5 on Abysmal's 1998 first offical
demo release, originally.
The first full-length studio album by Abysmal Grief is self-titled. It
came out in 2007.
'Crypt Of Horror' is the bonus video that is the ace in this package.
Well produced; it really lays bare just what terrific atmosphere Abysmal
Grief create.
Then there are these six songs:
1.'Ignis Fatuus' – You can be forgiven for thinking early Candlemass or pre-
Candlemass; Nemesis'- 'Day Of Retribution' Mini LP. The heaviness factor
is what I am keying on for this comparison. But first there is the opera
like beginning that sets the graveside mood.
The black cross, that I mentioned earlier, as part of the band's logo on
the front cover of the CD appears over the letter 'i' in the second word
of the band's name, Grief. This has already alerted the Doom/Sabs Metal
expert that there is a Saint Vitus connection possible. And, yes, music-
ally this is so. 'Ignis Fatuus', is the Abysmal Grief song with the
Candlemass like song title but the plod is entirely early 'Vitus.
'Ignis' drives along until a lead guitar splenches itself all over the
last part of this 8-minute song.
2.'Cadaver Devotion'- is even longer at 9 minutes and 35 seconds. Abysmal
Grief stamp their funereal atmosphere authority over the music by way of
trance vocals, Addam's Family harpsichord playing and sloooow heavy chords.
3.'Crypt Of Horror'- at just over 6 minutes, picks up the pace, sounds like
the band enjoyed a cup of cappuccino before getting back to business.
'Crypt' really cranks and it is here that the sinuousness of Black Metal
is weaved darkly into the music. Grief stricken horror riffs that may just
have you slack-jawed. This tune is eating like a super maggot into my brain.
The maggot seems to carry the message of: 'Play me again and again and again.
I think I will!
4. 'The Arrival Of The Worm'- Along with that maggot on a mission to make me
listen to Abysmal Grief repeatedly, comes the worm. 'The Arrival Of The Worm'
starts cocoon-like with a low keyboard part lulling over things and stays
quite dead. There really is nothing here but a faint atmospheric piece.
5. 'The Knells Accurse'- 2:02 – Oh my. Abysmal Grief starts with a mumbling,
rambling, sinister thing, vocals-wise. The bass-laden rythym guitar plunders
it's way soon joined by keyboards and a sickly toned lead guitar. Beyond
strange.
At this point I will tell you: No one is doing what these guys are doing with
Funereal Doom and doing it this well.
A nice tubular bells outro to this song that is straight out of Michael Old-
field's theme from 'The Exorcist' cult movie.
6. 'Resurrecturis'- 13 lucky minutes remain for the listener in the shape of
this doomy, gloomy number. Ultra spooky vocals caw and seethe their way to
the front of the mix.
If you can picture the Pope giving a speech that has been slowed down and
polluted by Heavy Metal, you may have some idea of the ghost of perversion
evoked on this album closer.
One for the cave dwellers who shun the light.
There is no sunlight tomorrow or ever this week.
Only Abysmal Grief.
– Rich Castle
Death Scream – Heavy Metal Reviews – Heavy Metal Interviews – Heavy Metal News