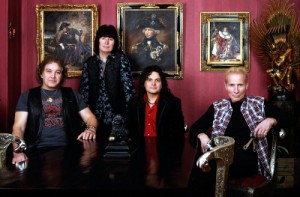 Fan-filmed video footage of UFO's May 13, 2011 performance at B.B. King Blues Club & Grill can be viewed below.
UFO is touring North America in support of its upcoming studio album, which is slated to be released before the end of the year via SPV/Steamhammer.
The East Coast leg of the tour kicked off May 11 at Bourbon Street in Baltimore, Maryland.
UFO's latest best-of collection, "Best Of A Decade", was released in North America on September 28, 2010 via SPV/Steamhammer.
The band's most recent studio album, "The Visitor", came out in June 2009.
The current lineup continues to consist of the three original members, Phil Mogg (vocals), Paul Raymond (guitar, keyboards), and Andy Parker (drums), as well as American world-class guitarist Vinnie Moore.
Via Blabbermouth
Death Scream – Heavy Metal Reviews – Heavy Metal Interviews – Heavy Metal News