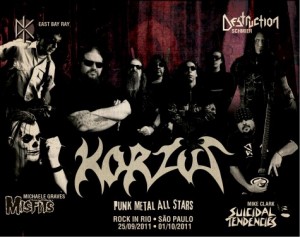 Schmier of DESTRUCTION and members of SUICIDAL TENDENCIES, MISFITS and DEAD KENNEDYS will join veteran Brazilian thrashers KORZUS on stage during their appearance at the Rock In Rio festival in September.
In other news, KORZUS will be direct support for SLAYER on June 9 at Via Funchal in São Paulo, Brazil.
KORZUS' "Truth" video can be viewed below. The song comes off the band's latest album, "Discipline Of Hate", which was released in Brazil on May 24, 2010 and the rest of the world on June 11, 2010 via AFM Records. The international version of the CD contains a bonus track, "We Are Just The Same", featuring a guest appearance by Zoltán Farkas, lead singer of the Hungarian metal band EKTOMORF. For the Brazilian market, the album came with a bonus track sung in Portuguese, entitled "Hipocrisia". The music video for "Truth" was included in both versions of the CD.
KORZUS' current lineup consists of Marcello Pompeu (vocals), Dick Siebert (bass), Heros Trench (guitar), Antonio Araújo (guitar) and Rodrigo Oliveira (drums).
Formed in 1983, KORZUS is one of the oldest and most important bands of the Brazilian thrash metal scene, along with groups like DORSAL ATLÂNTICA, SARCÓFAGO, SEPULTURA, GENOCIDIO and VULCANO. The band made its first vinyl appearance as part of the seminal metal compilation called "SP Metal" on the Baratos Afins label back in 1985. KORZUS went through numerous lineup changes over the years, with the group's three-member nucleus — Marcelo Pompeu (on vocals), Silvio Golfetti (on guitars) and Dick (on bass guitar) — remaining intact for much of this period.
KORZUS' classic lineup (1988-1992) consisted of Marcelo Pompeu (vocals), Silvio Golfetti (guitar), Marcelo Nicastro (guitar), Dick (bass) and Beto Silesci (drums, replacing Zema who committed suicide in 1988).
Golfetti temporarily played guitar for SEPULTURA on a European tour in December 1991 when Andreas Kisser was unable to perform due to an arm injury.
Via Blabbermouth
Death Scream – Heavy Metal Reviews – Heavy Metal Interviews – Heavy Metal News