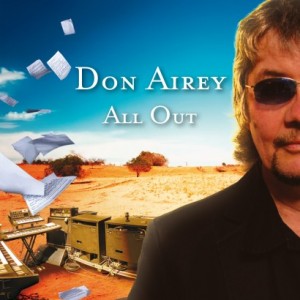 Legendary keyboardist Don Airey (DEEP PURPLE, OZZY OSBOURNE, RAINBOW) will release a new solo album, "All Out", on August 22 via Provogue Records. The CD features a guest appearance by blues guitarist Joe Bonamassa (BLACK COUNTRY COMMUNION).
"All Out" track listing:
01. The Way I Feel Inside
02. Estancia
03. People In Your Head
04. B'cos
05. Running From The Shadows
06. Right Arm Overture
07. Fire
08. Lon Road
09. Wrath Of Thor
10. Tobruk
A recent audio interview with Don Airey conducted by Greece's Rockoverdose.gr web site is available for streaming at this location.
Don Airey released his last solo album, "A Light In The Sky", in February 2008 via Mascot Records. For the effort, Airey gathered together a different set of collaborators (though Laurence Cottle of Sting/ Eric Clapton/ Brian Eno/ Bill Bruford fame once again contributes precision bass-playing), though naturally Don provides the record's central creative thrust — an entertaining mixture of instrumental and vocal songs, from the "Bladerunner"-style "Ripples In The Fabric Of Time" to the hook-laden hard rock of "Shooting Star".
Via Blabbermouth
Death Scream – Heavy Metal Reviews – Heavy Metal Interviews – Heavy Metal News