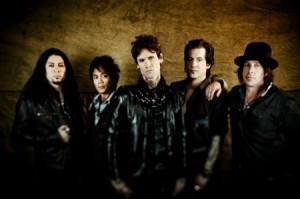 Californian rockers BUCKCHERRY completed their run on the Jägermeister Music Tour earlier this spring, coinciding with the release of their latest single, "It's A Party". The band partnered with Jägermeister to compile iconic live footage from the tour into an exclusive live video showcasing the band's electric energy behind "It's A Party". Check out the clip beow.
"The video is a compilation of a few different performances on our last tour," says BUCKCHERRY guitarist Keith Nelson. Vocalist Josh Todd adds, "It is the true essence of what we are about and when BUCKCHERRY hits the stage, we get the party started."
BUCKCHERRY premiered the "It's A Party" live video on Twitter, instructing fans to tweet a special message to unlock and view the video.
"It's A Party" appears on BUCKCHERRY's fifth studio album, "All Night Long", which sold around 28,000 copies in the United States in its first week of release to debut at position No. 10 on The Billboard 200 chart.
BUCKCHERRY's fourth studio CD, titled "Black Butterfly", opened with around 47,000 units back in September 2008 to land at No. 8.
Via Blabbermouth
Death Scream – Heavy Metal Reviews – Heavy Metal Interviews – Heavy Metal News