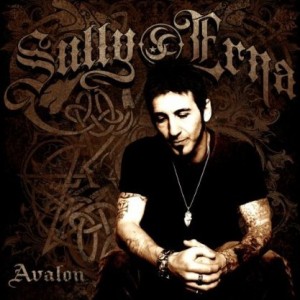 Elliot Levin of the NY Hard Rock Music Examiner recently conducted an interview with GODSMACK frontman Sully Erna. A couple of excerpts from the chat follow below.
NY Hard Rock Music Examiner: You're on tour supporting your solo record "Avalon", which is a real departure from a typical GODSMACK album. When you first decided you were going to do a solo album, did you already know it was going to be more acoustic and laid back, or is that just how it turned out?
Sully: No, I for sure had a direction. I didn't know what it was going to sound like yet, but I had pieces written, like "Eyes Of A Child", which is the new single, and "Until Then", and so I brought those to the table so when I brought in different members to start to organize the project. But I wasn't really sure what the ultimate sound was going to be like, but I knew what I wanted to do. I wanted it to be very earthly and eclectic and hand drumming and all these authentic acoustic instruments, so on the record if you hear a cello playing, it's an actual cello. If you hear a flute, it's an actual flute, it's not somebody playing on keyboards or that kind of stuff, so I'm very proud of that. It kind of developed very organically, it started with me knowing a couple of people, those people knowing a few more people, and before we knew it we were writing pieces like the song "Avalon", which really set the tone for the project.
NY Hard Rock Music Examiner: I guess the most standout aspect of this record is that it has a female singer, Lisa Guyer, accompanying you on the album, which sounds so fresh because I'm hard-pressed to think of another rock album or group that's done that since JEFFERSON AIRPLANE. How critical are her vocals to the tone of the record?
Sully: Oh, she was a key element in this sound. She was the first one I went to. I knew right out of the box that if I was going to do this thing, I wanted to have a beautiful female singer with me. At first I was thinking of Lisa Gerrard from DEAD CAN DANCE, since that's been a massive influence on me, and if not for bands like that, I wouldn't have come up with songs like "Serenity" and "Voodoo". And so I wanted to go deeper into that genre, open it up a bit more, somewhat alternative and world music-ish but kind of have an edge to it as well. And so I thought of Lisa, I've known this girl fifteen years, she lives down the street from me, and she's just an amazing singer with a four-octave range that just never had her shot. And it almost angers me that she never had her opportunity to really shine. I'm really grateful to have her in the band, and get her career going, and let people she what she does, and she's killing it, man, killing it. When you see this girl live, you're going to be blown away.
NY Hard Rock Music Examiner: This tour is all seated, unlike a GODSMACK show with mosh pits and what not. Should fans expect something like the solo tour you did a few years ago, or an "MTV Unplugged"-type thing?
Sully: No, not "MTV Unplugged", and not so much what I did on the solo tour; that was more of "an evening with," storytelling kind of thing, but it probably relates to that more than an "MTV Unplugged" kind of thing because even with the solo tour I've done in the past, I was trying to set a mood, a certain tone, and explain to people how powerful music really is. And I think that's what "Avalon" is, I've swelled that solo performance up into a bigger thing, but it's still kind of a trip down the rabbit hole into a journey through music, and I hope it touches people on an emotional level. I know we've come up with a beautiful lighting package for it, I've created some really great video content, and I really think it's going to be an emotional roller coaster for people. It's very powerful on a much different level, nothing like GODSMACK, but powerful emotionally and it's very impressive to me seeing eight people on stage who are all multi-instrumentalists.
NY Hard Rock Music Examiner: Looking forward a bit, you're headlining [Rockstar Energy Drink] Mayhem fest with MEGADETH and DISTURBED this summer, did you ever think that a band as established as MEGADETH would be opening for you?
Sully: No, not when I was younger that's for sure. I loved MEGADETH, especially their first couple of records, but I never imagined that. But I never imagined a lot of things when I was younger, I never imagined I'd get to sing with BLACK SABBATH, singing "Heaven and Hell" with them, I got to tour with METALLICA for a year and jump on stage with some of my idols in that band, I've definitely hit some milestones along the way that I've never seen coming. I think all in all it's going to be a fun tour, it's going to be a loud tour, and a lot of energy across the board. It'll be a fun summer.
Via Blabbermouth
Death Scream – Heavy Metal Reviews – Heavy Metal Interviews – Heavy Metal News