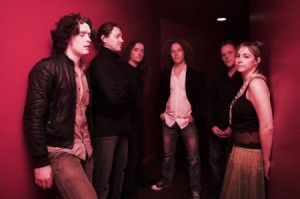 Vincent Cavanagh of the U.K. atmospheric rock band ANATHEMA has issued the following update:
"This week, due to circumstances outside of our control, the full band will not be able to travel to the U.S. to perform with BLACKFIELD. Despite making every effort and exploring all avenues to make this trip possible, we were not able to find a solution.
"Our fans are our number one priority and so as not to let you down, we've generated enough support to keep most of our American Dream alive but this does still mean a few unavoidable changes to the plan.
"We wanted to let you know that instead of the full band appearing, myself and Danny [Cavanagh] will now be performing acoustically. We're really excited as it's our first time in the States and with absolute respect for fans who have bought tickets, we want to go over and give you a great show. Even though we'll be focusing mainly on the newer material, we're still ready to play some of the old songs if people want to hear them! In fact, to us, these acoustic gigs are more special and exciting in a way — they are less structured and more improvised than a full band show — there's room for a bit of freedom on the night. Additionally, due to the unprecedented style of these shows we have decided to record these rare acoustic performances for forthcoming special releases and exclusive online content.
"We really feel this is just the beginning OF ANATHEMA's U.S. story and Danny and I are looking forward to meeting everyone. We will be on the merchandise stand after every performance to greet you all and we will do our best to make sure the full band gets to tour in the USA as quickly as possible, perhaps even headlining before the end of the year.
"Whilst we realise this is a significant change from the original plan and we are disappointed that we can't perform with the full band, we are thrilled that we can still play to our fans in the USA. In true ANATHEMA spirit, the show WILL go on."
"We're Here Because We're Here", the eighth studio album from ANATHEMA, will receive its long-overdue U.S. release on June 7 on The End Records. A special, limited-edition deluxe edition will include three bonus tracks, a seven-inch single with two unreleased tracks, and a DVD 5.1 Surround Sound version of the album, along with the stereo version, both mixed by Steven Wilson of PORCUPINE TREE.
"We're Here Because We're Here" deluxe edition track listing:
01. Thin Air
02. Summer Night Horizon
03. Dreaming Light
04. Everything
05. Angels Walk Among Us
06. Presence
07. A Simple Mistake
08. Get Off Get Out
09. Universal
10. Hindsight
Bonus tracks:
01. Angels Walk Among Us – Demo Mix
02. Presence – Demo Mix
03. A Simple Mistake – Demo Mix
Special limited edition will include the above plus:
Seven-inch single:
01. Dreaming Light – Orchestral Version
02. Universal – Orchestral Version
DVD:
5.1 Surround Sound & High Resolution 24-bit stereo album mix
Download Track:
* Everything – Demo Mix
"We're Here Because We're Here" was originally released in May 2010 via Kscope Records. The self-produced CD was mixed by Steven Wilson (PORCUPINE TREE) and features the exquisite string arrangements of Dave Stewart (STEWART/GASKIN, PORCUPINE TREE) and mastering skills of legendary Jon Astley (THE WHO, LED ZEPPELIN). The song "Angels Walk Among Us" features subtle backing vocals by Ville Valo of HIM.
Via Blabbermouth
Death Scream – Heavy Metal Reviews – Heavy Metal Interviews – Heavy Metal News