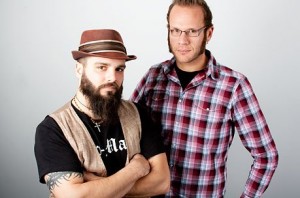 TIMES OF GRACE — the new project that reteams KILLSWITCH ENGAGE guitarist and producer extraordinaire Adam Dutkiewicz with original KILLSWITCH ENGAGE vocalist Jesse Leach — was interviewed for an episode of "Hard" on the AUX music channel out of Canada when the band played in Toronto, Ontario on February 21, 2011. The segment can now be viewed below.
The core of TIMES OF GRACE's touring lineup is Leach and Dutkiewicz, and they are supported by guitarist Joel Stroetzel, bassist Daniel Struble and drummer Dan Gluszak.
Stroetzel is a familiar name to TIMES OF GRACE fans, as he is also guitarist for KILLSWITCH ENGAGE, alongside Adam, and is an original member who played with Leach while he was singing in KILLSWITCH ENGAGE. Stroetzel's involvement in TIMES OF GRACE was a happy accident, as he assisted his former and current bandmates when they recorded acoustic performances for iTunes and Sirius XM's Liquid Metal late last year. TIMES OF GRACE was on the hunt for a live guitarist and Stroetzel just clicked, so he decided to once again pitch in for his friends and act as their touring guitarist. Struble is the former singer of FIVE POINTE O, a long ago labelmate of KILLSWITCH ENGAGE, while Gluszak is the former drummer of ENVY ON THE COAST.
"The Hymn Of A Broken Man", the debut album from TIMES OF GRACE, sold around 10,000 copies in the United States in its first week of release to land at position No. 44 on The Billboard 200 chart.
Dutkiewicz and Leach worked together on KILLSWITCH ENGAGE's benchmark album, 2002's "Alive Or Just Breathing". That record has become definitive for an entire generation of American metal, with Leach's voice and uplifting lyrics serving as one of the key elements that propelled the album to "modern classic" status. Leach, who went on to sing for the more classic-rock leaning SEEMLESS and who currently sings for the metal band THE EMPIRE SHALL FALL, was always remembered fondly by KILLSWITCH ENGAGE fans, even though he left the band shortly after "Alive Or Just Breathing"'s release.
Via Blabbermouth
Death Scream – Heavy Metal Reviews – Heavy Metal Interviews – Heavy Metal News