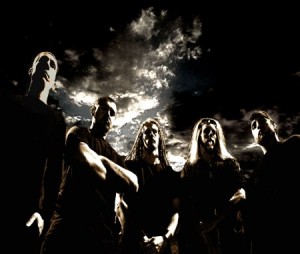 "Wretched Eyes Of God", a brand new song from Australian/Los Angeles tech-metal masters DEVOLVED, can be streamed below. The track comes off the band's new album, "Oblivion", which will be released on May 24 via Unique Leader Records. According to a press release, the CD will contain "10 songs of unrelenting modern metal which combines uncompromising intensity, chaotic timing signitures, insane musicianship and a futuristic soundscape blended to create an epic and totally crushing listening experience from start to stop! 'Oblivion' features the furious drumming of founding member John Sankey, who has also worked with DIVINE HERESY, FEAR FACTORY and contributed to the Roadrunner all-star sessions. The album also marks the recording debut of vocalist Kyle Zemanek, who previously fronted L.A. metal heavyweights DEADSETT, and has collaborated with members of FIVE FINGER DEATH PUNCH."
Commented Sankey: "'Oblivion' is absolutely our most innovative, ambitious and intense work to date.
"Writing this CD was an excruciating and very time-consuming process, but we have created what I definitely consider a unique metal album that showcases each of us pushing the limits of our playing and songwriting. The end result is a listening experience that will speak for itself. I am extremely proud of what we have achieved!"
"Oblivion" track listing :
01. Existential Crisis
02. Into Fire
03. Awakening
04. World In Denial
05. Virus
06. Wretched Eyes Of God
07. Transcendence
08. From The Ashes
09. Legions Rise
10. Divinity (cover song; bonus track)
A six-minute YouTube clip featuring snippets of all the tracks that are set to appear on "Oblivion" is available below.
Via Blabbermouth
Death Scream – Heavy Metal Reviews – Heavy Metal Interviews – Heavy Metal News