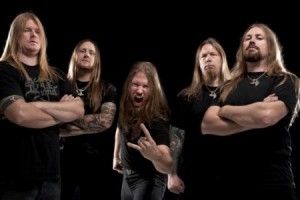 Fedja of CraveMetal.com conducted an interview with Swedish death metallers AMON AMARTH when the band performed at the O2 Academy in Birmingham, England on April 8, 2011 with CHILDREN OF BODOM. You can now watch the chat below.
"Surtur Rising", the latest studio album from AMON AMARTH, sold approximately 15,000 copies in the United States in its first week, landing at the #34 on The Billboard 200, #6 on the Billboard Top Independent Album, #1 on the Billboard Top Hard Music Albums and #10 on the Indy/Small Chain Core Store chart.
In Germany, "Surtur Rising" sold over 14,000 units, entered the Top 100 chart at #8 and is in the official Media Mark charts at #14 in its second week (# 8 in the first week). In addition, the CD came in at #19 on Canada's Top 200 chart, #5 on the Independent chart and #2 on Hard chart. The record is #1 in Canada on iTunes' Top Metal albums, and also charted on the following: #16 Top 200, #3 Top Rock and #1 Top Metal. In the U.S., the record ranked in at #2 on iTunes' Rock Album chart and #20 in the Top 200 (overall album chart).
Named in tribute to Surtur, leader of the fire giants of Muspelheim ("flame land") and the oldest being in the nine worlds of Norse mythology, "Surtur Rising", which came out in North America on March 29 via Metal Blade Records, features 10 tracks of sword-wielding, fist-pumping, hyper climactic battle anthems. The album was once again recorded at Fascination Street Studios in Örebro, Sweden with Jens Bogren and features strikingly brutal cover art by Tom Thiel.
Via Blabbermouth
Death Scream – Heavy Metal Reviews – Heavy Metal Interviews – Heavy Metal News