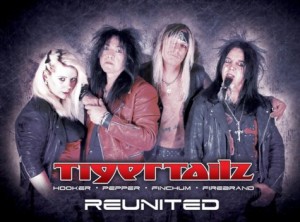 Legendary Welsh shock rockers TIGERTAILZ have announced the return of drummer Ace Finchum to the band. The addition of Ace, who last played with TIGERTAILZ in the early 1990s, reunites all surviving members of the group's "classic" lineup.
TIGERTAILZ members Kim Hooker and Jay Pepper will be at the Steelhouse in Ebbw Vale tonight (Friday, June 17) to announce their first show with Ace.
TIGERTAILZ recently completed its first multi-date U.K. tour since 2007.
Shooting to fame in 1990 on the back of big-selling second album "Bezerk" and a string of hit singles, magazine covers and videos, the band won all the plaudits going for their bombastic, lion-hearted rock anthems — songs that are still played and loved all over the world today.
Getting back together in 2005, they were struck by tragedy when bassist and co-founder Pepsi Tate died from cancer in 2007. Fighting back with the usual 'TAILZ spirit, the band regrouped with bass player Sarah Firebrand and drummer Robin Guy in 2010, and headlined the opening night of the U.K.'s Hard Rock Hell, a performance that sold out months in advance.
TIGERTAILZ released a new live album, "Bezerk Live – Burnin' Fuel", in January via TT/Cargo Records.
Via Blabbermouth
Death Scream – Heavy Metal Reviews – Heavy Metal Interviews – Heavy Metal News