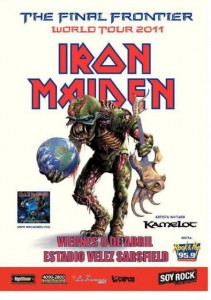 British heavy metal legends IRON MAIDEN have landed at position No. 2 on this week's Billboard.com "Hot Tours" rankings with more than $10.5 million in box office grosses reported from tour legs in both South America and Europe. The band played two concerts in Brazil (April 3 in Recife and April 5 in Curitiba) and a stadium event in Argentina on April 8 at Estadio Vélez Sársfield in Buenos Aires. The concert with the best attendance was in Chile at the 47,000-seat Estadio Nacional in Santiago, the largest stadium in the country. With 43,780 fans in attendance, the performance on April 10 grossed 1.2 billion pesos ($2.6 million US$). At a concert on June 3, Berlin's 17,000-seat arena, O2 World, drew a crowd of 12,817, the top attendance reported from the six German arenas in this week's tally.
* Artist/Event: IRON MAIDEN
* Total Gross: $10,499,308
* Show Dates: April 3-June 7
* Show Venue/City:
– Parque de exposições do Cordeiro, Recife, Brazil
– Arena Expotrade, Curitiba, Brazil
– Estadio Vélez Sársfield, Buenos Aires
– Estadio Nacional, Santiago
– Festhalle, Frankfurt, Germany
– König-Pilsener Arena, Oberhausen, Germany
– Olympiahalle, Munich
– O2 World, Hamburg
– O2 World, Berlin
– Hanns-Martin-Schleyer-Halle, Stuttgart, Germany
* Total Attendance: 163,680
* Capacity: 186,404
As previously reported, IRON MAIDEN's April 8 and April 10 concerts in Buenos Aires, Argentina and Santiago, Chile, respectively, were professionally filmed and recorded for a future DVD release.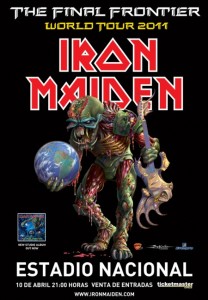 IRON MAIDEN was honored with a Grammy in the "Best Metal Performance" category in the pre-telecast ceremony at the 53rd annual Grammy Awards, which was held on February 13 at the Staples Center in Los Angeles. IRON MAIDEN was nominated for the track "El Dorado", from the band's 2010 album "The Final Frontier".
"The Final Frontier" sold 63,000 copies in the United States in its first week of release to enter The Billboard 200 chart at position No. 4.
"The Final Frontier" was IRON MAIDEN's fourth U.K. No. 1 album. The band previously topped the chart in 1982 with "The Number of the Beast", in 1988 with "Seventh Son of a Seventh Son" and in 1992 with "Fear of the Dark".
Via Blabbermouth
Death Scream – Heavy Metal Reviews – Heavy Metal Interviews – Heavy Metal News