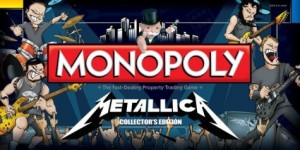 One of the world's most popular board games, Monopoly, has been customized to celebrate the history and music of heavy metal giants METALLICA. The game will be available starting this Friday, June 17 from the band's official webstore.
Game description: "The fast-dealing property trading game' just got faster! Monopoly Metallica Collector's Edition takes the popular board game to a whole new level. Every aspect of the game designed for the true METALLICA fan in mind. You'll 'Pass Go' through historic METALLICA events and locations around the board such as club shows, festivals, studios, childhood homes and other metal landmarks. Create your own real estate empire by adding arenas and stadiums to all your properties! Game pieces include the 'Kill 'Em All' hammer, '…And Justice For All' scales, 'St. Anger' fist, 'Black Album' snake, ninja star, and the 'Jump in the Fire' demon. Land on one of the 'Binge and Purge' or 'Jump in the Fire' spaces and be rewarded or fined in true METALLICA form. You won't believe the price you'll pay!"
METALLICA follows KISS, THE BEATLES, ELVIS PRESLEY and THE GRATEFUL DEAD, among other artists, who have their own Monopoly games.
Via Blabbermouth
Death Scream – Heavy Metal Reviews – Heavy Metal Interviews – Heavy Metal News